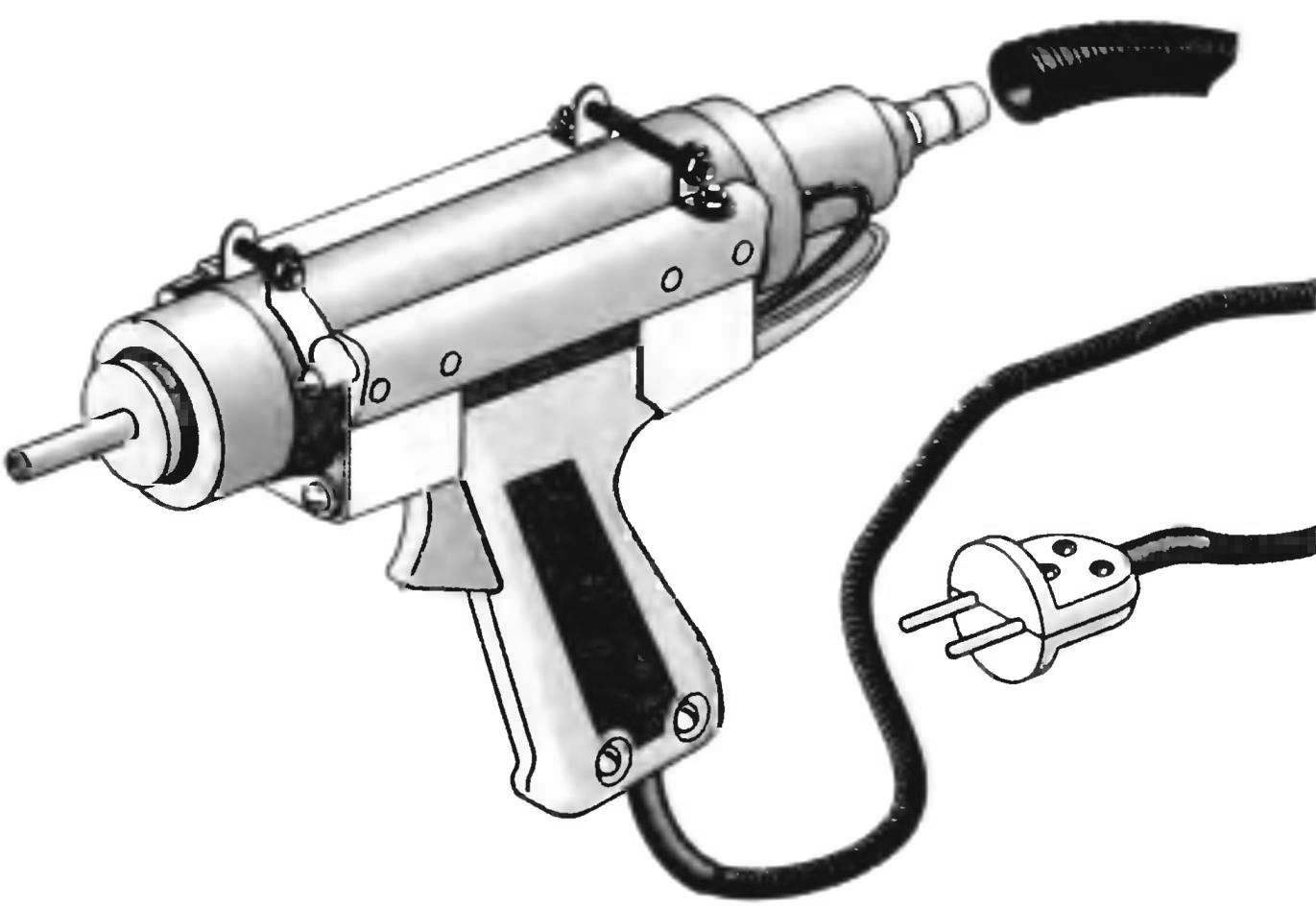 Offer DIY (and home) is a device for welding plastics. However, it can be used to solve a variety of problems of technical work — for example, to blow away solder from electronic circuit boards dismantled. Because the temperature coming out of the nozzle-tube air reaches 300°C, and warm-up only takes 5 — 8 minutes.
The device (Fig.1) is assembled in a pistol is the easiest to work form. And to him I was old pulse soldering iron (PDH-100 GOST 7219-69). from which removed all the working part, except the switch (22) located in the handle (21).
Empty metal shell soldering iron sawn with a hacksaw along (horizontal), and the separated top part in half lengthwise To get two halves (26) using aluminum rivets (27) through the drilled holes of 2 mm diameter joining the two coupling strips (20 and 23) of thin (1 mm) of Teflon, which serve for fastening to the arm (21) of the new working part of the device, that is, the outer ceramic tube (3) with a diameter of 50 mm. for the same purpose from the top to the case halves soldering iron (26), at the back, drilled holes for the clamping parts (10). And in the front halves of these already have the threaded holes where the screws fasten the tie plates (8) pre-bent, as shown in the figure. The contraction is fixed with pins and nuts (29, 30) But first need to impose heating the housing (3) heat insulation strips (9, 24) of the same fluoropolymer that the Velcro ties. Prior to Assembly of the device requested to enter in the handle and connected to the switch flexible cord (18) withstand current up to 5A, and the ends of the output for connection to a heating part.