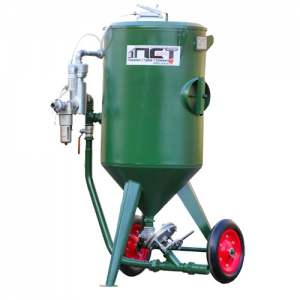 The number of construction crews in our time is constantly increasing. That is why newly established organizations involved in the construction of certain facilities and renovations can pose significant difficulty finding clients. In order to take a worthy place in this niche and constantly have orders, you must have appropriate construction equipment. Because with their help you can significantly reduce the time of task execution.
If you are just starting out in this industry, you definitely need to by sandblasting, so as not to waste a lot of time on preparatory activities. Typically, this tool is actively used for rapid elimination of rust, prevent corrosion, remove oxide. But you should clearly understand that the efficiency of sand-blasting machines largely depends on how accurately and competently picked up model.
The pursuit of such equipment should begin immediately with identifying the correct manufacturer. Today, many firms engaged in the supply of such equipment, therefore, to allocate a certain thing is problematic. You will help to Orient participants in the appropriate forums feedback. In addition, often users are actively discussing the model, which was used previously, listing their strengths and weaknesses. Noting a few models for yourself, you can proceed to the consideration of the range shown in the online stores.
Define acceptable capacity, optimum dimensions and performance. It should also establish how much of the building structures you will need a lump sum to handle. This will significantly speed up the process. For newly formed construction companies is important to the price. But you have to understand that buying excessively cheap sand blasting equipment may entail significant additional costs. It is best to focus on the average price category.
Conducting negotiations with the supplier regarding a specific model, be sure to ask whether the seller of a corresponding guarantee if certificates. Unchecked equipment which is not tested, do not get. Otherwise, soon you will again have to invest in the purchase of new equipment.
Recommend to read
AND COT AND TABLE
To lengthen the crib grown daughters, made a back flip. It turned out — a double benefit: in the daytime daughter is using her piece as a table for drawing, sculpting.   V. SADAKO, Donetsk
HOT? ANYTIME!
Many villagers and gardeners have on their sites shower. Usually this is a small free-standing enclosed building with a tank on the roof. From it by gravity through the pipe to the...