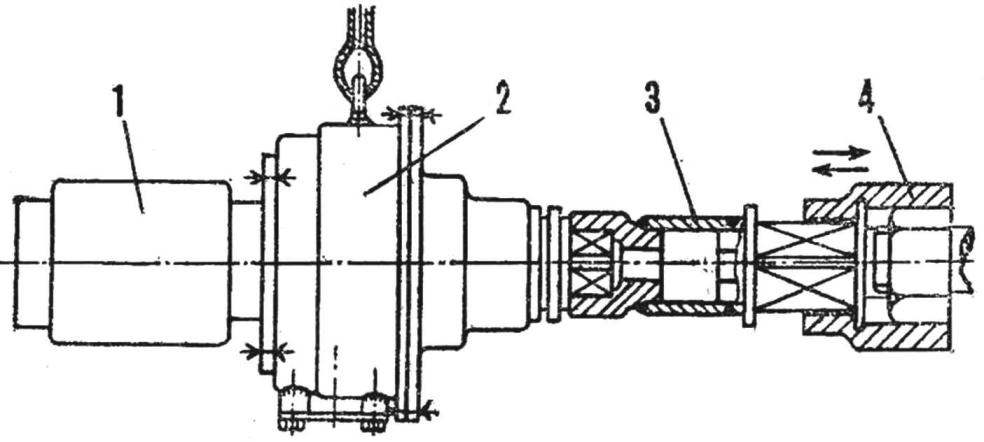 For modern engineering and many other sectors of the economy it's not uncommon for such large structures, in which the Assembly or disassembly of powerful bolting already exempt from the ordinary hand tools or power one working. That's why the innovators of Novo-Gorkovsky oil refinery created a powerful Electromechanical wrench. It is a two-stage planetary gear associated with seriesname DC motor with a power of 0.9—1.0 kW. The torque transmitted to them at the nut is 825 KGM.
Tool-hero can be supported by a light crane for lifting eyebolts. The loosening and tightening of the screws is performed by means of a removable mechanical key and model moving joints, allowing him to freely deal with the nuts having a thread to the M60, where a worker with a wrench and a sledgehammer from vincial one nut for 6 — 7
min, with the wrench it takes about a minute.
Wrench:
1 — motor, 2 — planetary gear, 3 — clutch, 4 — Allen wrench.
The use tool allows you not only to mechanize manual labor, but to reduce time consumption, improve the quality of the work.
Recommend to read
CARTRIDGE-CLAMSHELL
For screwing a screw includes a head, screw slot. And studs there is nothing: only a cylindrical body with thread. For screwing it in parts, there are special tools, but many of them are...
UK-4: MORE ABOUT THE NEW FEATURES
In last year's fourth issue of the journal, I read an article about Razakhatskaya V. the machine "Skillful hands". There is proposed a device for drilling. But it will have to cut off part...