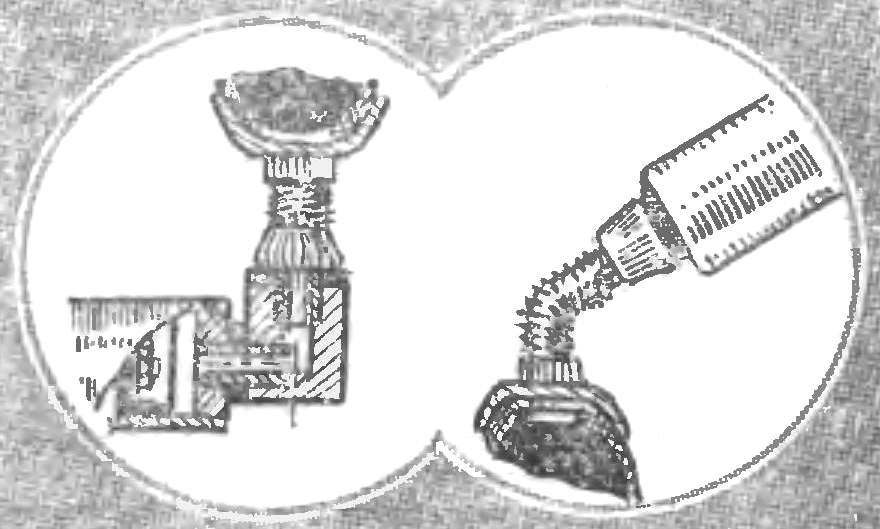 Pumping a Bicycle tire pump regular takes often more time than similar work at the motorist. The main reason is air leakage through the connecting rubber tubing to the pump and the nipple of the wheel. Yes, and the tube often fails. I propose to replace this unreliable part with a metal adapter. Thread in its inner axial hole should be of such length that when nevinchany on the nipple to stop it Juice a shank with a thread outlet of the pump is perpendicular to the plane of the wheel. Wide washers cut from rubber sheet with a thickness of 2-3 mm, securely seal end joints. If you manage not damaging the threads, a little bend the body of the nipple to the side, as shown in the figure, neither the tube nor the adapter is not required: the pump can be connected directly to the nipple.
Denis TITOV, Odintsovo, Moscow region
Recommend to read
WHY WOULD AN ARTIST CURLER?
To restore the "hair" rassohnetsya brushes is possible, having moistened it with water and pulled from the handle with a rubber band. Excellent "curlers" are, in particular, of the...
ON THE BICYCLE FROM THE CAR
Automotive pump, of course, performance bike, but they (if the pump is to the old bike) unequal valves, which eliminates the possibility of replacement. Small adapter to motor valve will...