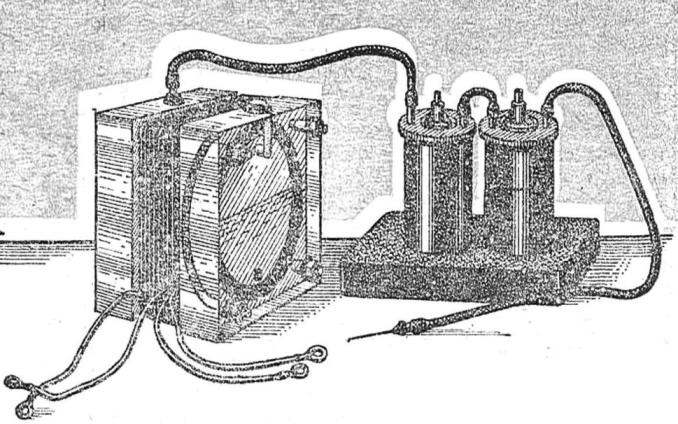 Using the principle of producing hydrogen by electrolysis of aqueous alkali, as described in the journal "modelist-Konstruktor" No. 7 for 1980, I decided to make more simple and compact device, useful for working with small parts when soldering, brazing. Due to the small outer dimensions of the cell it will be a place and on a small desktop, and use as a power supply unit standard rectifier for recharging batteries manufacturer facilitates installation and makes it safe. Relatively small, but quite sufficient for the needs of the Modeler performance of the device has allowed to simplify the design of the water seal and to ensure fire and explosion safety.
For those unfamiliar with the previous publication, let me remind you the device cell. Between the two boards connected by four studs placed battery plate electrodes, separated by rubber rings. The internal cavity of the battery is half-filled with an aqueous solution of Koh or NaOH. Applied to the plates DC voltage causes electrolysis of water and production of hydrogen gas and oxygen. This mixture is discharged through the put on fitting PVC pipe in the intermediate tank and from this to a water trap. The gas that has passed through there is placed a mixture of water and acetone in the ratio 1:1 is required for combustion the composition and reserved the other tube into the nozzle — needle of a medical syringe, that burns through its outlet to a temperature of about 1800° C.
Card cell I used thick plexiglass. This material is easily handled, chemically resistant to the electrolyte and allows you to visually monitor the level, if necessary add through the filler hole with distilled water.
Plates can be made of sheet metal (stainless steel, Nickel, decamerone or transformer iron) with a thickness of 0,6-0,8 mm. For convenience of Assembly plates stamped round recesses for rubber seal ring, the depth of thickness of ring 5-6 mm should be 2-3 mm.