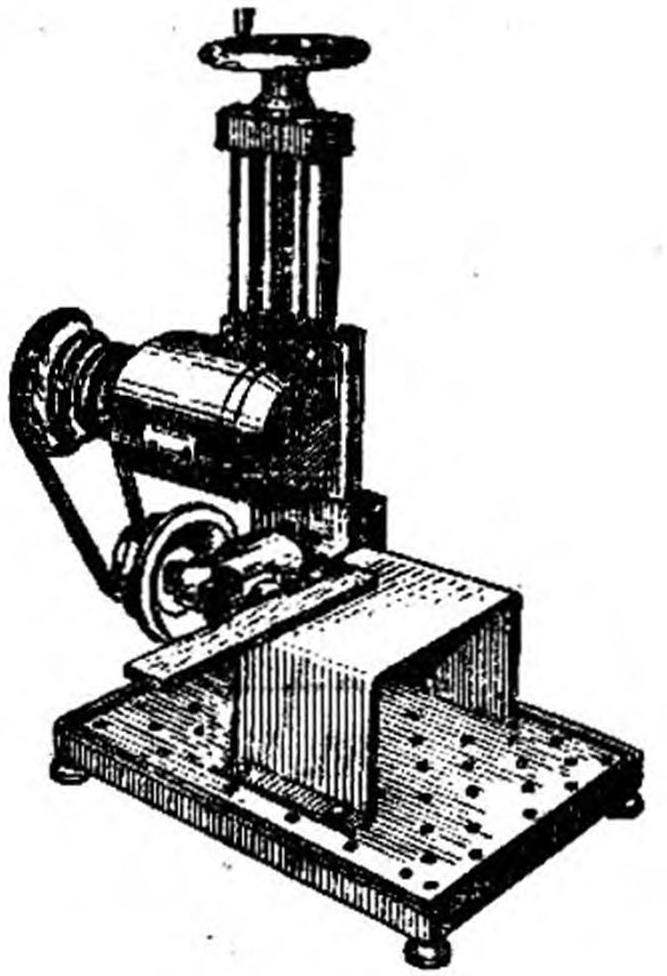 In one of the shows can viewers was submitted to design a universal machine, designed by the engraver of the suburban town of Troitsk Y. M. Orlov. Not only a discussion of a design program participants, but also by the numerous letters received by the author, editions, TV and the magazine "M-K" showed how great the interest was this table versatile machine capable of performing a number of operations for machining a variety of materials. To meet numerous requests, the editors asked the author designs to tell more about it.
It is known that many machines, the tool performs rotational motion about the details, and they differ from each other primarily only horizontal or vertical arrangement of the working body, as well as the use of additional equipment and fixtures. This led to the idea of using for different operations of a single power node consisting of a caliper with a fortified it the spindle head and the motor connected by a belt. And in order that the spindle could take the horizontal and vertical position — make the whole site turning! This idea was implemented. For skills on lathe and milling machines manufacturer of universal difficulties is not present.
On the basis of rectangular duralumin sheet 25Х400Х500 mm — two racks are mounted cylindrical steel rods of Ø 38 mm. They are connected at the level of the base and at the top of two bridges made from a steel strip with a thickness of 25 mm.