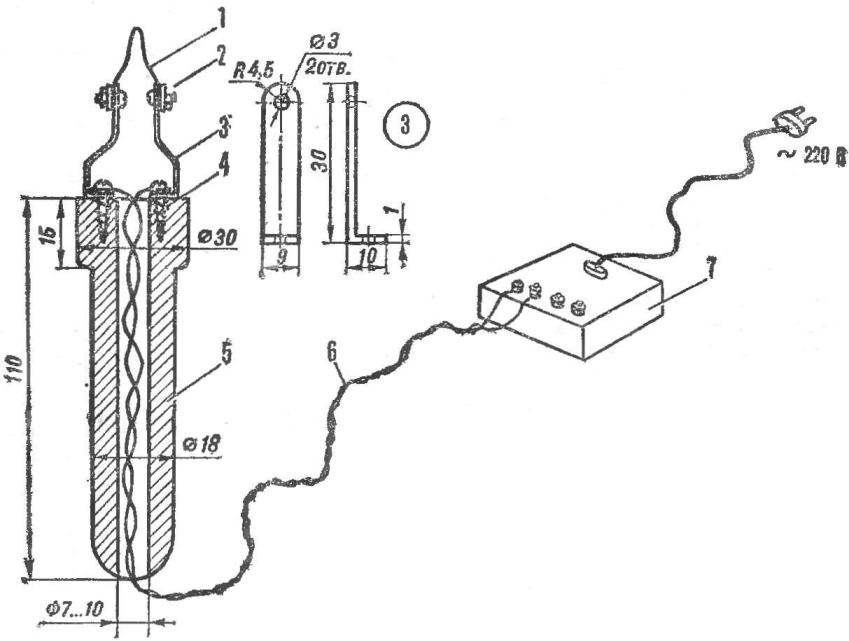 Small red-hot spiral, fed by electric current, in skilled hands becomes a kind of pencil, which is burned on the tree. This elektrovyzhigatel. For its production you will need a transformer, step-down the voltage to 220 V to 2-4, 1.5—2 m stranded wire (cord), electrical tape, nichrome wire Ø 0,5—0,8 mm with a length of 60-80 mm, wood 30 mm 0 blank or cut of the PCB [plywood] with a thickness of 7-9 mm, screws and M3 nuts, small screws, strips of brass of 1 mm thickness, twine. We offer our readers two versions of elektrovyzhigatel, and each is characterized by simplicity, reliability and safety in operation.
The first design (Fig. 1). Wooden throw 30×30 mm carved on a lathe pen or use the ready-made from any tool. Along the Central axis of the handle drill a hole Ø 7-10 mm for the cord.
Cut from sheet brass two plate-holder, drill in them two holes of Ø 3 mm and bend at a right angle. Giving them the form shown in the drawing, attach them with small screws to the edge and move under heads bared ends of the cord, threading it through the hole. On the opposite side of the holders install the clips for nichrome wire — two screws with M3 washers and nuts. The ends of the heater bend into rings with a diameter of about 3 mm and clamp between the plates and washers.