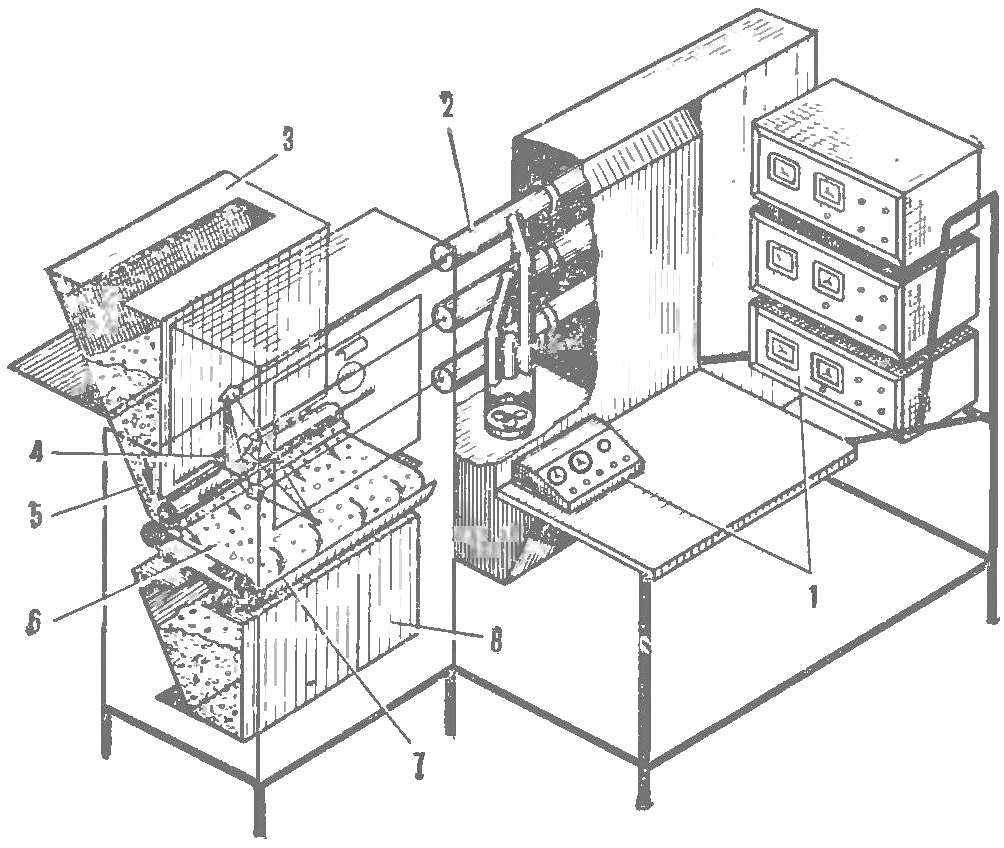 Recent studies have shown that laser beams act on the seeds of agricultural plants as an active stimulant, arousing in them the reserve force, increasing productivity, zastausia from disease.
For these purposes, in the student's design-technological
Bureau "Ushkyn", created at the Kazakh agricultural Institute has developed an installation for presowing treatment of seeds by laser beams. In the design and manufacture of plant, dubbed "Ushkyn-1", was attended by engineers SKTB, teachers of the Department "machine Parts" and a large group of students of faculties of agricultural mechanization and the organization of technology of repair of cars.
Laser gun is designed for irradiation of seeds of both grain and vegetable crops monochromatic light of three quantum generators LH-75. The possibility of including each of them individually, as well as in a particular combination allows you to vary the intensity of irradiation.
Laser for harvest:
1 — control, 2 — ferrule optical quantum generators, 3 — hopper, 4 — mechanism of movement of the mirrors, 5 — hopper dosing unit, 6 — conveyor belt, 7 — inclined plate, 8 — hopper.
Installation (see Fig.) consists of several blocks, which makes it transportable — applicable not only in stationary but also in the field. The main part of the device — unit quantum generators and the control panel. The beams from each of the three trunks lasers are directed at the camera exposure. Here they fall into a fixed angle mirror, concentrating or scattering them on the surface of the conveyor belt with the grain coming from the hopper of the dispensing apparatus, and in him from a removable hopper. Reel-to-reel dispensing apparatus evenly in a single layer distributes the seeds on the surface of a belt conveyor moving through the irradiation zone at a speed of 1 m/sec. of Irradiated seeds then fall on the inclined guide plate, which slide down into a hopper. The upper and lower hoppers are interchangeable, which simplifies the task if necessary, repeat the cycle of irradiation.
Recommend to read
SCISSORS-HOLE PUNCH
When repairing machinery, especially agricultural, are quite common and at the same time melomakarouna operations cutting of sheet iron, and the manufacture of cardboard strips with...
THE HARVESTER GOES ON THE COURSE
When Gennady Kulish arrived in Kirovohrad Institute of agricultural engineering, engineering, it, recent rocketmodeler, and in a head could not come that an important part of modern...