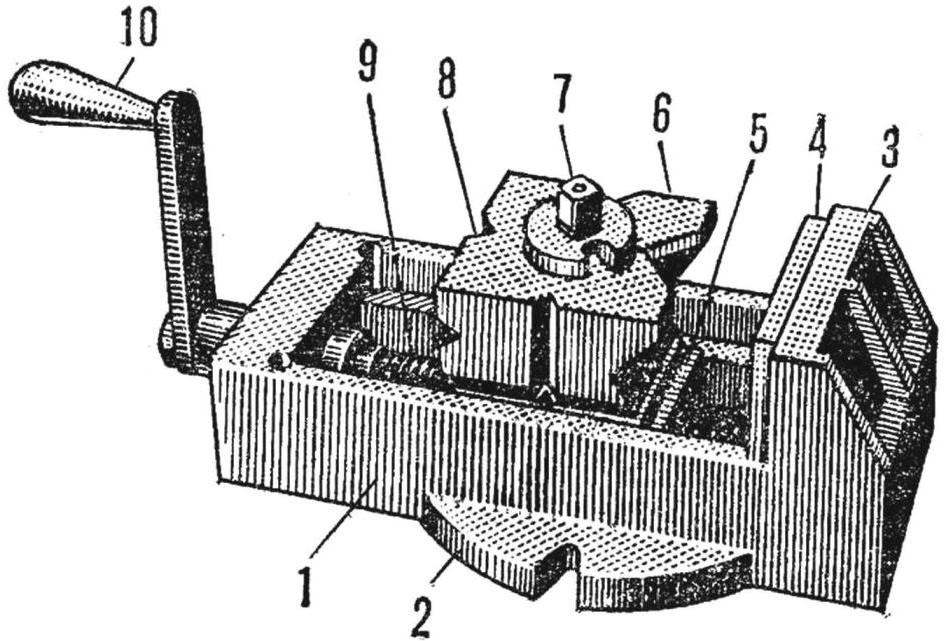 They look close to the "classic" scheme: have a body and a fixed jaw, a screw that moves the movable jaw, lugs for attaching to the workplace. But for all its similarity to conventional new grip thanks to the clever solution of their design has acquired much greater opportunities, become universal. The main feature of the original clamping device, developed by Turner M. Babichev, Vitebsk machine-tool plant named after Comintern is movable sponge: it is made in the form of rotary drum. In other details the innovator has made the changes.
Body fit — a closed box-shaped frame integrally molded with lugs for mounting and a stand with ribs, which plays the role fixed jaw.
Universal vise:
1 — body, 2 — lug for fixing, a 3 — strut — a fixed jaw, 4 — slip strap, 5 — movable plate, 6 — movable jaw-reel, 7 — fixing screw, 8 — prismatic recess 9— screw, 10 — arm.
Inside the body of the screw moves the movable plate; on it with the help of prolonged screw set sponge drum. The side faces of the drum have a prismatic indentations of different size, located in vertical and horizontal planes. This design of the sponge allows you to secure even a round, tubular parts, and both horizontally and vertically. During the transition to the machining of workpieces of a different diameter it is sufficient to loosen the screw and rotate the sponge drum size corresponding prismatic recess. Thanks to this innovation details fixed many times faster, provided them accurate and instant centering.
Acceleration clamp is also that the screw feed of the movable jaw until it stops, provided with a handle — it also enhances usability.
New vises increase productivity and improve quality of processing parts. The device can be used for installing on milling, slotting, planing and other machines, giving a considerable economic effect.
Recommend to read
"SCHOOL" CUTTER
Rationalization proposal Lyubertsy student of secondary school № 42 of Yuri Furmanov. How to ensure all novice turners cutters? Almost every school workshop this problem exists. The HSS...
DRILL WITH RADIATOR
Modern engineering makes high demands on the materials, and they, in turn, to the machining tools. Not by chance all the exhibitions NTTM necessarily demonstrates the new development of...