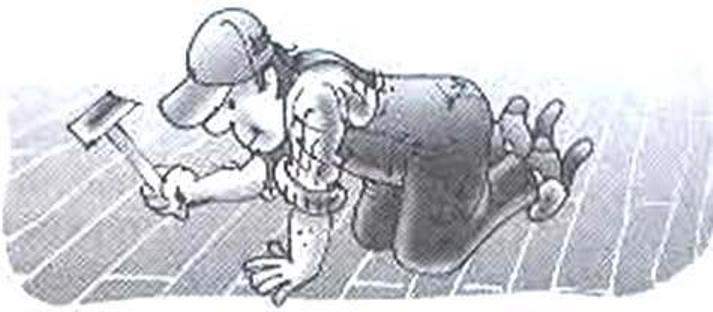 There comes a time when you suddenly notice. your wooden floors in the rooms or in the room begin to creak or appear defects such as swelling; the sagging, rotting. You begin to understand that no repair is necessary. The faults of the sexes, few who can avoid. In the palaces of nobles and kings Park! preserved to our time by Goy simple reason that the master was threatened with physical punishment for poor performance. Modern builders. unfortunately, often allow the marriage. Especially this sin of the so-called special master, abusing the fact that then they are almost impossible to find to draw to Troubleshooting. Relentless time on the floors, too, has its devastating effects.
There are normative service life of various coatings. The developer must know them in order to assess the status of their priests. Suggest to refer to such documents as "Recommendations on the priests" (in the development of SNiP 3.04.01-87 "Insulation and finishes") and "Technical advice on technology floors during reconstruction and capital repairs of residential buildings" (TR 148-03).
With quality installation and proper care parquet and plank floors are able to serve 30 — 50 years, But this time can be shorter not only because of the design of marriage, but also due to "hard" operating conditions. For example, because wood is naturally air conditioned with high humidity coating of this material will take away the moisture under low humidity — give it to the environment. If you pop a plank, then do not worry in such extremes of humidity there. Massive Board is able to handle more extreme loads. Take as an example a wooden pop baths. And music of parquet flooring is more sensitive and can have undesirable defects. Therefore, in the room where they are stacked, it is recommended to maintain humidity in the range of 50 — 70% at a temperature of 20 — 22°C. If the street is damp, it is not recommended to open the Windows. Enough to ventilate the room through the half-open window. Should not be allowed to accidentally spilled the water remained on the surface of the flooring It cleaning should be damp, well-wrung cloth or simply a vacuum cleaner. This floor is very sensitive to mechanical damage: it can be scratched by legs of furniture or rough soles of shoes. Under the supports of cabinets and beds to put a soft substrate made of pieces of linoleum, leather or carpet. The lacquer should be updated every four years. You can not avoid exposure to the floor of street dirt, which is composed of fine abrasive particles (enough for entrance Mat). Minor scratches and cracks can be repaired with special products that are sold in specialized stores. Traces of rubber footwear, Shoe Polish and grease stains are removed with cleaning compounds kerosene and alcohol.