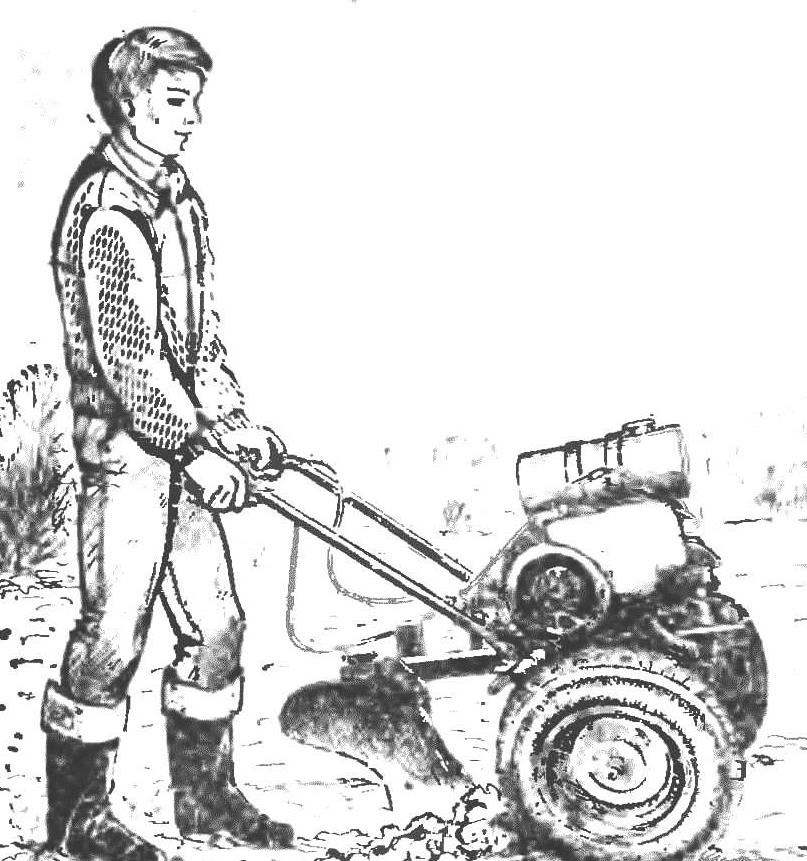 Compact versatile self-propelled machine MOSM-1 — so named his design the young wizards of the circle modeling and the design of agricultural machines Novokosinskaya high school in Dagestan. With various attachments it performs plowing, cultivation, sowing, harrowing, mowing hay and collect the dried grass in rolls and stacks; trucks in the tow truck different loads, and in winter helps to remove snow. From the PTO can be powered and other power tools — circular saw, drill, water pump. Such a wide range of works became possible due to the universal structure that combines advantages of microfracture, tillers and motorised. Details about the structure of the machine says the head of the circle K. M Kurbag.
In the construction of the tillers the most common two-wheeled layout. It provides the machine sufficient stability and good maneuverability. However, for the outdoor area — in the field, on the meadow — three-and four schemes characteristic of microstructural preferred. The driver sits on the machine, manages it with great ease and accuracy, and most importantly, expanding opportunities for more rational installation of the hinged equipment: it can be placed at both the front and rear of the machine.

Figure 1.Universal tillers of ASM-1:
1 — option c two-wheeled mower.2 — a three-wheeled layout.