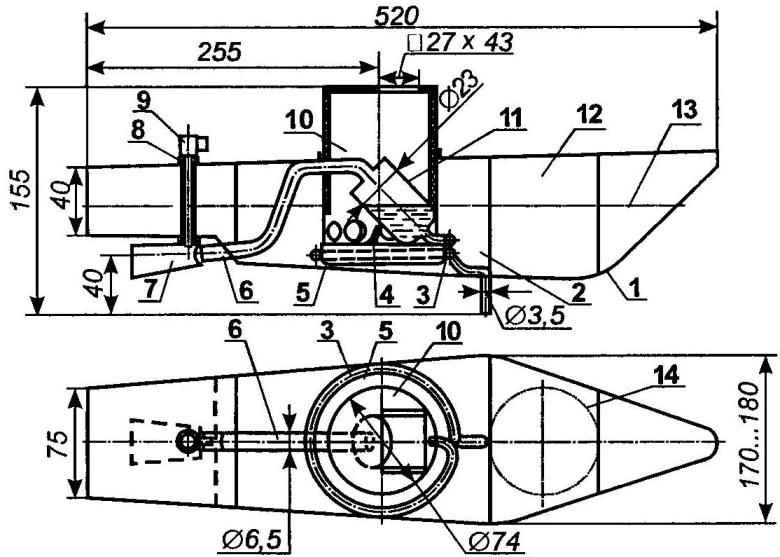 Everyone who did the ship models with the electric drive, are familiar issues associated with power supplies. Often have to upgrade the batteries, but they are not cheap. Hence the continued interest manifested by the modelers to the idea of replacing the actuator. For example… steam, which no power supply is required.
Me, feel lucky: the library leafing through a binder of journals, downright miraculously stumbled upon the article "Boat candle", published in No. 8 of "Model construction", 2000. However, to blindly copy set out there technical solutions did not. Yes, and the specific conditions that existed at my disposal the materials and equipment required a slightly different approach to the implementation of the conceived idea — the installation of the advanced steam engine for model boats of the coast guard.
As described in the journal of the prototype, the proposed engine contains in its structure the discharge steam line. But it is connected with the upper part of the present, not pseudocode. The boiler is necessarily provided with the insulating shell.
Outboard water in the boiler is supplied from below with the ring of a conduit and heated to a boil by the flame of a candle (lamps) installed in a furnace. Generated steam is supplied to the discharge steam pipe that ends under the bottom of the stern, in place of the propeller shaft. The ship moves due to the jet energy of jets of steam escaping from the outlet of the steam pipe and guided to the rotary nozzle controlled steering device.