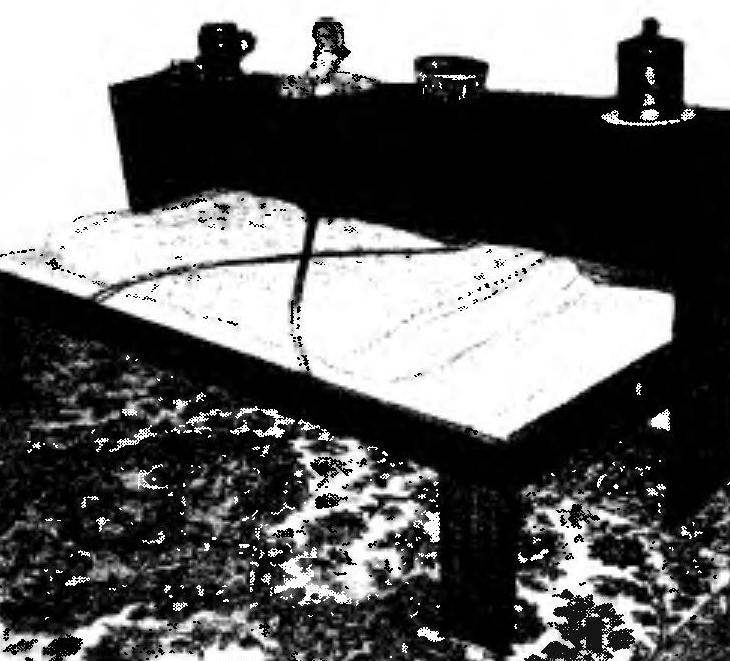 Your magazine has repeatedly published the various options of folding and folding beds. Want to offer your own version. I must admit that to take a tool I made coming first "coupon" shortage in stores and market wealth with a "biting" prices. By the time son grew out of his crib, which he inherited from his daughter. New had to do yourself.
Getting started making the bed, I looked at the small size of the apartment (they have enough): it's just better to occupy less space. What turned out — to judge to readers that, despite all difficulties, remain faithful to their favorite magazine (I subscribe since 1968).
The material was collected, as the saying goes, "every little helps" — more precisely, on the plate. From an old crib it went of the back of chipboard: one of two sidewalls (det. 4, Fig. 1), the other on the wall, a foot back (det. 14, Fig. 2), the hinged leg and decorative (two pieces, det. 3,5, Fig. 1), as well as furniture bolts and nuts (det. 7, Fig. 1, 6 PCs.).
Rear wall composed of separate boards (chipboard, 8), and side — veneer "wood" (it would be better, of course, to make from whole leaves, but they did not exist). All the leaves (boards), particle Board standard thickness is 16 mm. the Top cover is assembled from two wooden planks and sheathed entirely in leatherette (top and bottom) as the front side of the lounger (see below). Possible (or even desirable) option cover from a piece of particle Board, also veneered "wood". The back wall can sew up the regular plywood, but in this case, the bed will be less stable in the folded position.