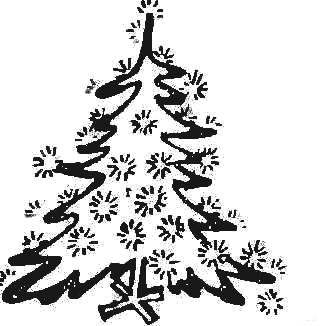 How rapidly time, dear readers! Last night, I think the "Club house masters" invited you to their new year's housewarming party — and now a small anniversary: it was three years old. How many different designs and craft projects for the home was offered to you during this time and how you managed to do with their hands! Let's hope that ahead of you are no less interesting development that can brighten the life, lighten household chores, to fill leisure time. And today the "Club house masters" wishes you a happy New year and presents a few Christmas gifts with a wish of happiness to your home and success to its skilled craftsmen!
TREE WITHOUT NEEDLES
Sparing green prickly beauties so vulnerable standing on one leg in the forest drifts, many have long refused to set the house for the New year "live" Christmas tree. Initially a large popularity of all kinds of synthetic collapsible simulators coniferous trees. Now, especially in families where the children grew increasingly turning to more conventional elements of Christmas symbols. Artists interior began to offer different solutions to the Christmas area from one pine branch and even without it — some Christmas decorations. Housewives began to enter signs of the New year homemade cakes: cakes or biscuits in the form of eating, cakes with candles and the corresponding pattern of cream. Not remained aloof and craftsmen: every year for the holiday made from scrap materials once ingenious and simple design.
Here is one of them — "portrait" – tree: make it, and your Christmas table will be present, even those who at this hour is away from you.