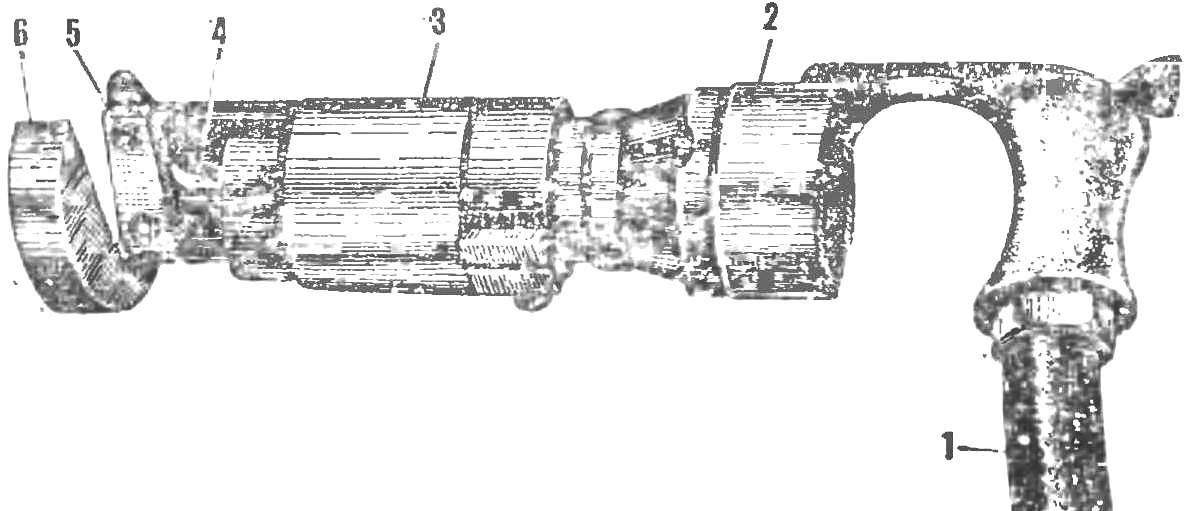 Simple attachment to the percussion pneumatic tools such as pneumatic type, 5K or 5K-MP offered by the innovator of the production Association "Znamya Truda" fitter V. Ivanov, allows you to execute some unexpected surgery — to cut through the metal.
Head-scissors:
1 — hose pneumatic, 2 — hammers, 3 — hull tips, 4 — blade rod, 5 — movable knife 6, the fixed knife.
PEEN hammers became the new tool of cutter stock, which, together with the fixed knife nozzle turns the hammer in the… scissors. They are easy to cut sheet material up to 3 mm thick and suitable even day to cut out the shaped workpieces. The productivity compared to existing cutting methods increases from 16 to 20 times.
Scissors reliable, easy to manufacture. They can be widely used when performing roofing, sheet metal, repair and boiler works.
Recommend to read
SCISSORS-HOLE PUNCH
When repairing machinery, especially agricultural, are quite common and at the same time melomakarouna operations cutting of sheet iron, and the manufacture of cardboard strips with...
HERE'S A SPATULA
We are all accustomed to the fact that the spatulas (tools for applying putty) are smooth metal, plywood or rubber plate. Of course, if you want luted to a flat surface, they can not do...