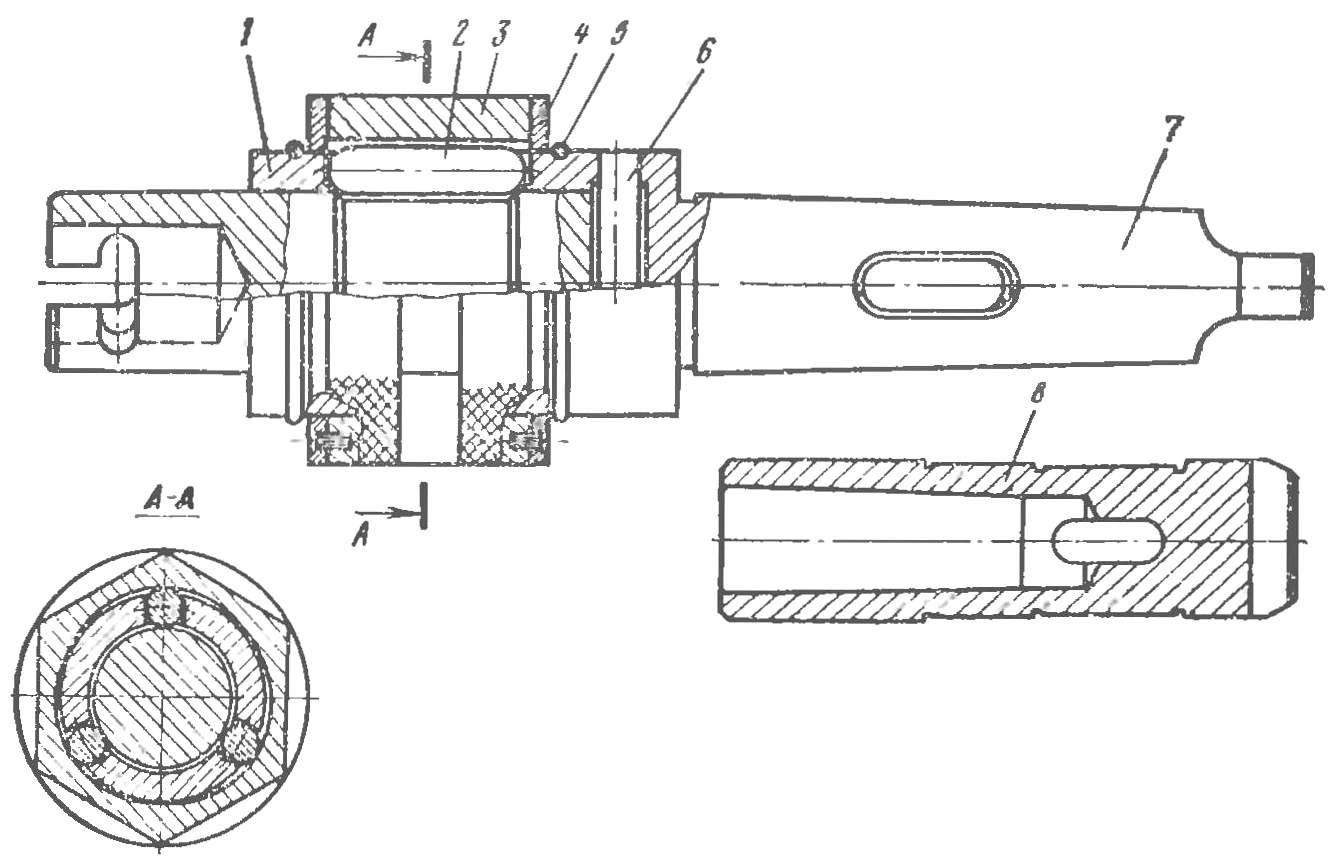 To various tool holders, cartridges and heads, clamping a working tool in addition to reliability, is increasingly imposed and such requirements as simplicity, convenience and fast-shift. It is these qualities in the first place and is distinguished by a new Chuck for horizontal boring machines created by young innovators Odessa plant of milling machines named after S. M. Kirov.
Keyless Chuck:
1 — housing with bayonet insert, 2 clamping roller, 3 — eccentric bushing, 4 — flange (2 piece), 5 — separation ring (2 PCs.), 6 — pin, 7 — cone shank, 8 in — cone insert.
The original design gives the opportunity to securely and quickly fix the tool in the machine spindle, so as to avoid radial play. The Chuck body has three longitudinal groove, in which float the clamping parts. They are powered rotary eccentric sleeve, fixed by two flanges and restrictive rings. The torque from the machine spindle is transmitted through the pins.
Clamped the tool rotated to lock the eccentric bushing clockwise or counterclockwise. The rollers, fitted a centering neck of a paste, stuck it. A set of interchangeable inserts enables the use of different tools: if you shank the Chuck is designed for Morse taper 5 boring machine, the insertion — tool with Morse taper 1 to 4.
The advantages of the devices can be attributed to the fact that it is the same successfully used not only with universal, but with a special tool having a landing portion, similar to the inserts.
Recommend to read
CARTRIDGE-GUN ARKHANGELSK
Vocational school graduates, finishing school, to protect diploma. They are often self-development: engineering and manufacturing of complex parts, assemblies, or fixtures....
TUBE LOCK
When connecting parts of the piping or hydraulic system, connect the tool to the pneumatic system or an irrigation hose at the joints not to do without special connector — threaded...