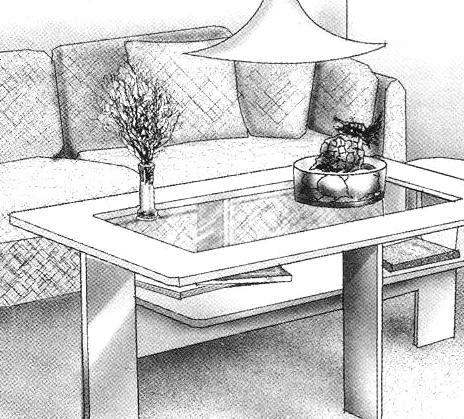 A small table, color coordinated with the seats, carpet and the lamp, will transform one of the corners of your apartment, will add to her comfort. The top — worktop — made of glass inserted in a wooden frame. Below there is a shelf for Newspapers and magazines, the dimensions of which correspond to the sizes of glass. The shape of the table is simple, corners are rounded.
N-shaped legs
The wooden parts of the table is made of particle Board (chipboard) with a thickness of 19 mm. For table top cut glass, thickness 4 mm.
The table has the following dimensions: 700x1100x470 mm dimensions of glass: 460х 860 mm table Manufacturing does not require large expenditures of material. For the top fit a sheet of chipboard size 700×1100 mm, sawn from the middle panel sizes 460×860 mm is used as a shelf. For the manufacture of table legs will need chipboard 1100×450 size mm 700×450 mm. Of them are cut, H-shaped legs according to figure 2.