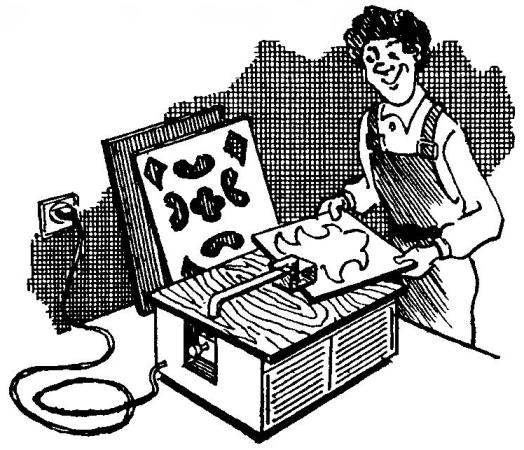 The proposed design of the jigsaws are manufactured in workshops Menzelin-sky teacher's College in Tatarstan Republic. To ensure the reciprocating motion of the saw in that jigsaw used a crank-but-polzuny mechanism of the compressor of the refrigerator. With this jigsaw you can cut the various contours of plywood and boards up to a thickness of 30 mm.
At the core of the design is the motor-compressor of the type DX motor from household refrigerators, which can be found in scrap metal or in a repair shop for refrigerators. Check the operation of the motor is easy to disassembly, by measuring with the ohmmeter the resistance of starting and working windings (5 and 20 Ohms). The status of the compressor unit does not matter.
Fabrication begins with a revision of the housing of the motor-compressor. From the side, where there are no terminals of winding, the body is at a distance of 20 mm from the edge of cut metal with a hacksaw and removed. Made two local cutout in the housing with dimensions of 60×50 mm. the First is to allow access to the cylinder head, the second is to install the nipples on the opposite side. After completing the access to the compressor, its upper part should be dismantled. Cylinder head of the compressor will be useful in the future.