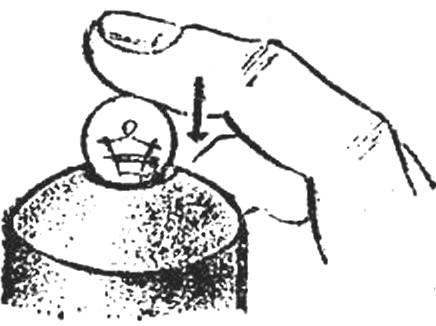 The two elements 373, light bulb 3,5ВХ0,26A, a strip of sheet brass with a thickness of 0.5 mm (150×5 mm), cut cardboard (150X X200 mm), cotton thread, glue, a soldering iron and scissors you will need to for 15 min to produce the light.
Plate brass curve as shown in figure 1. To the upper end of the solder the bulb, and the elements 373 attach the thread to the plate so that between the base of the bulb and the Central terminal of the upper element remains a gap. Body glue from coloured cardboard. The lamp is ready. Turn it on by pressing the index finger on the bulb (Fig. 2).

Fig. 1. Lamp:
1
— element 373, 2
— light, 3
— brass plate, 4
— thread, 5
— case, 6
— basis.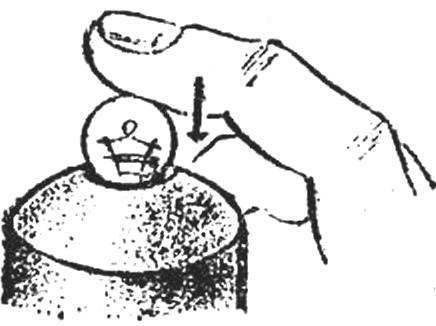 Fig. 2. The inclusion of the lamp.
Recommend to read
MAGIC IS "ACROBAT"
The principle of the toy is clear from the figure. Figure "acrobat" with a height of about 25 mm of foam is spherical in the base of the lead. Making the jump, a figure stands on the...
COMPACT ELECTRO-SOLDERING IRON
I have improved the conventional electric soldering iron. It turned out lightweight and compact (see Fig.), you can carry even in your pocket. It is easy to make and a beginning radio...