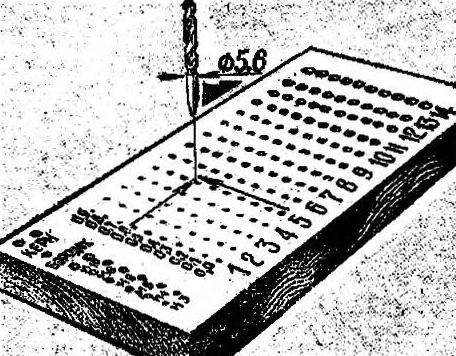 If your stock of drills is quite diverse, it is more convenient to place them on the wide wooden bar on the principle of a grid. The advantages of such vertical storage is obvious: the best safety tool more easy to use. But the proposed principle of their arrangement allow for a "first attempt" to find a drill bit the right size.
On the top surface of thick block of wood 10 is applied to horizontal rows and 10 vertical 15. Each horizontal is denoted by successive numbers is 0.1, 0.2 … 0.9, and every vertical — from 1 to 10 — 15 (depending on the number of drills).
At the point of intersection of the lines of the blind holes drilled to a depth of from 10 to 30 mm, and their diameter is selected such that it with a small gap you can insert a drill, the diameter of which is determined by the number of vertical rows (up to 1 mm| horizontal (up to 0.1 mm).
Next to drills it is advisable to place taps, core, a Scriber, etc.
M. CHERECHES
Recommend to read
THE FRAME — TIGHTLY!
Loose door frame is easy to fix, without resorting to the services of the master. Need to drill through it several through holes, going deep in the wall. This can be done with...
HAMMER IN THE MAIL
Of all the impact tools — an axe, a sledgehammer, a pick, and others more in the process suffers hammer: slip a large nail or chisel is not lost on its wooden handle. To protect her from...