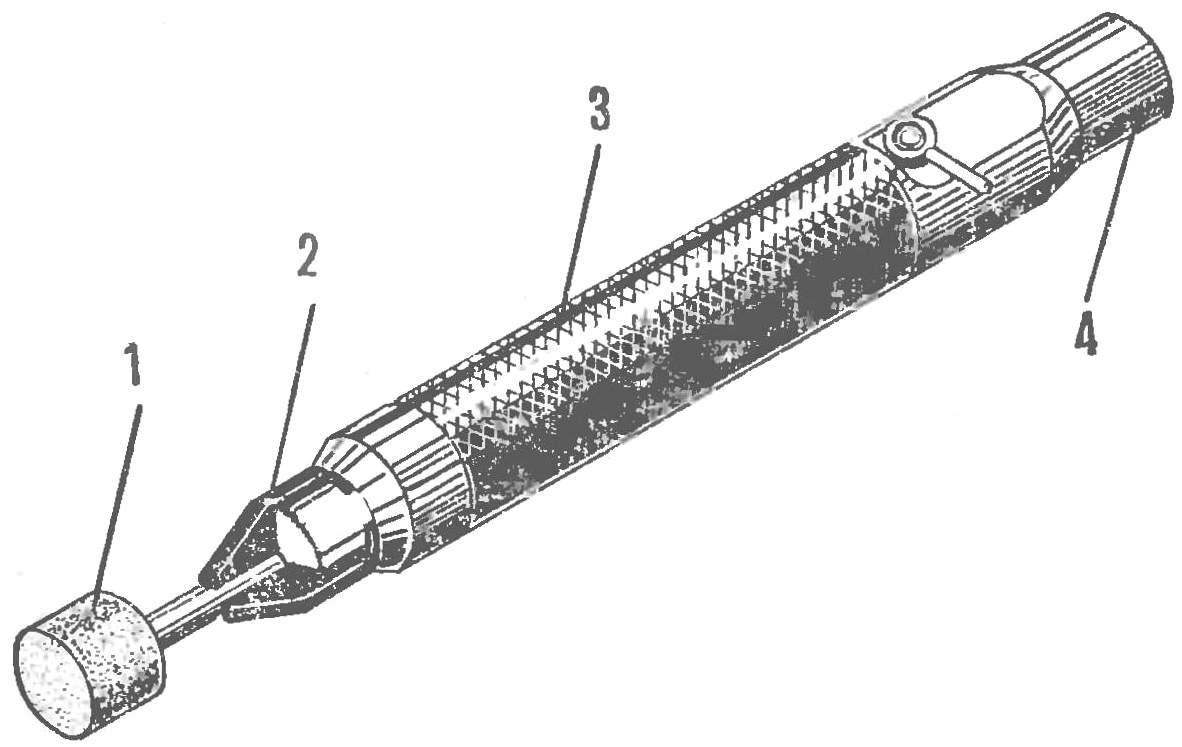 For grinding of surfaces of metal parts to a mirror Shine created a lot of mechanical devices. However, most of them are designed for processing flat surface, in an extreme case, with only a small curvature. And how to be with different matrices and punches, press forms — after all, they must be treated as carefully!
Young innovator A. Kaverin developed for these purposes, a "magic wand" — grinding machine (Fig. 1) in the form of a pencil. From similar designs it is advantageous primarily features light weight, small size, quiet operation and a convenient form. To combine in a single tool all these qualities of the innovator was possible thanks to the introduction of a new drive. Typically such devices for the rotation of the working head with an abrasive was applied to the impeller, causing the tool was bulky and uncomfortable. A. Kaverin built into the pencil of the screw rotor, which is easier to manufacture, and the diameter can be much smaller.
Grinding the pencil:
1 — abrasive 2 — clamp head, 3 — body with the screw rotor, 4 — shank for connection with the pneumatic conduit.
The simplicity of the design makes this machine is available for self-production. In addition to sanding, the pencil will be able to remove the chamfer, burrs of the workpieces. And if you apply more interchangeable collets, then securing the various tool, it is easy to greatly extend the range of application devices.
The new machine has proven itself reliable and efficient assistant. Introduction it gives about two thousand annual savings.
Recommend to read
EXPRESS CARTRIDGE
To various tool holders, cartridges and heads, clamping a working tool in addition to reliability, is increasingly imposed and such requirements as simplicity, convenience and...
DRILL WITH RADIATOR
Modern engineering makes high demands on the materials, and they, in turn, to the machining tools. Not by chance all the exhibitions NTTM necessarily demonstrates the new development of...