The normal brush is good for painting only flat surfaces. That's why innovators design for complex works of a special brush. The original, with the unusual instrument, outwardly, no resemblance to the brush, though intended to perform it functions. He developed in the Institute Kazorgtechstroy and is designed for painting pipes oil compositions.
Narrow "specialization" required to create a bent angle of the handle, and on it two placed one inside the other semi-circular metal clips. What's on the inside, rigidly attached to the arm, and the outer can move on its fasteners, as on rails. Under the action of the spring loaded screw she is constantly pressed by their edges to the edges of the inner cage. This gives you the opportunity to squeeze in their striped fur is here and ready new "hair" brush.
In contact with the pipe fur hugs her, leaning on the inner ring, and paints from a significant portion of the surface of the pipe.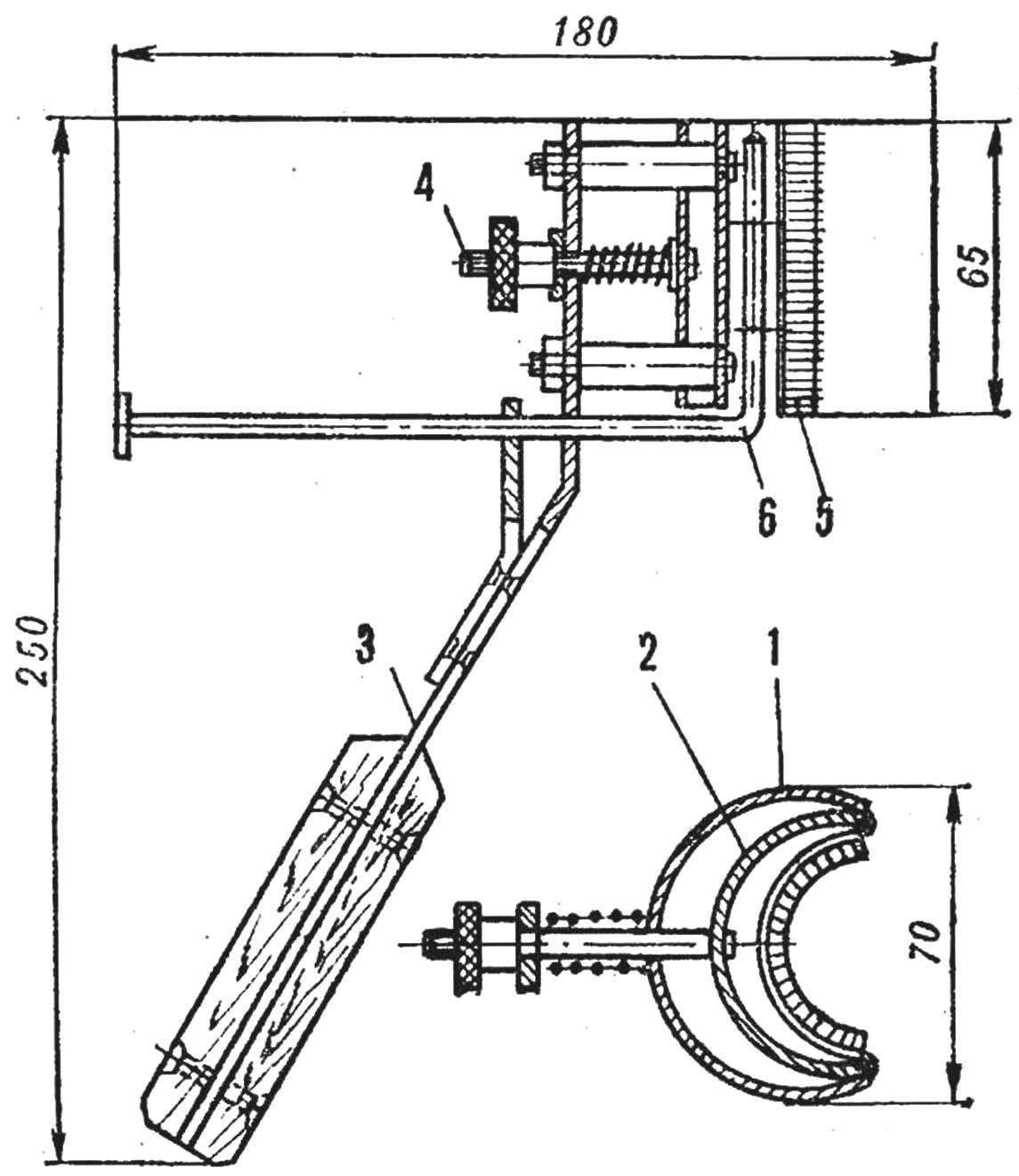 Brush for tubes:
1,2 — the outer and inner ring, 3 — handle, 4 — spring loaded screw, 5 — fur strip, 6 — stock.
A natural question arises: how to dunk a brush in paint? The device can be used in the same way as carefully as an ordinary brush. This is thin stock, whereby the fur strip extends from the cage out and then retracts.
Replacing the metal clips, you can paint the pipes with different diameters.
Recommend to read
"ETERNAL" BRUSH
In various treatment machines, cleaning the role of the washcloths make circular nylon brush. But making nylon circles and repairs them after wear synthetic bristles — a difficult and...
PAINT MITTEN
Water pipe running along the wall, paint normal brush hard. For this purpose I made a MITT made of sheepskin with the fur outside. Wearing it on your hand and dipped into the paint,...