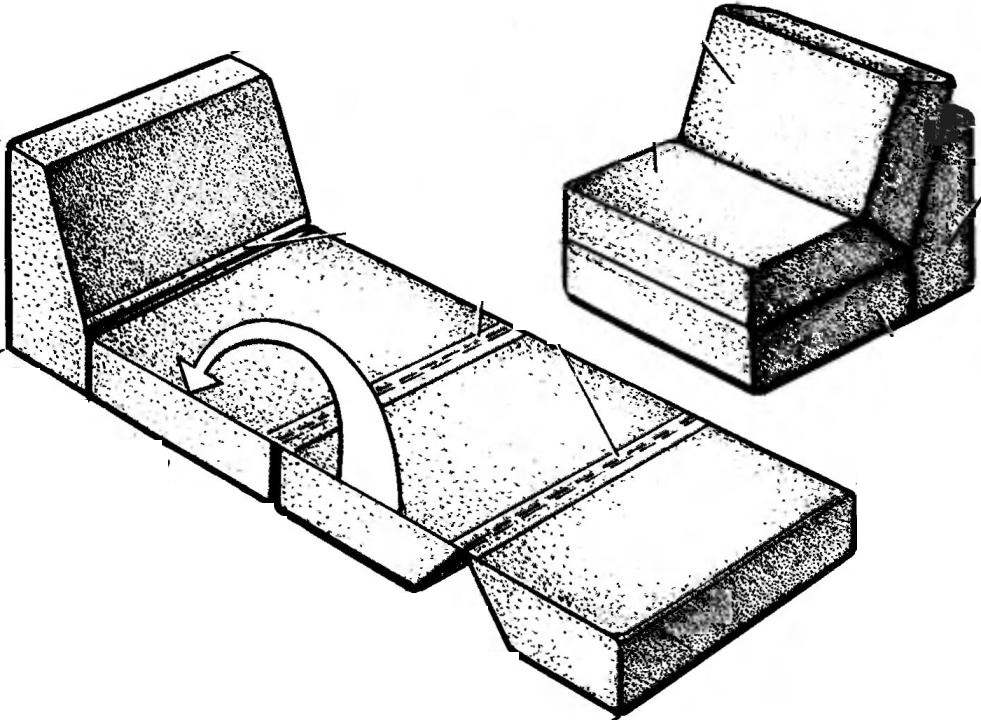 In small, especially one-bedroom apartments, at least not serious to look for such functional separation: living room, bedroom, children's. But because there is a special approach, specific furniture requirements, and above all its versatility and ability to transform that is to be released as a larger area for the daytime.
In this sense, curious choices transforming furniture suggested to the readers of the Bulgarian journal "Guide yourself." Interestingly, the possibility of such a non-traditional approach to its design could arise through the extensive use of modern headsets soft items — chairs, sofas, couches — based foam instead of all kinds of springs. This is convenient because it allows to obtain the elastic layer of the desired thickness — from thin to thick bulky Mat, pillows, and any shape. Which led, apparently, to the creation of furniture from this material.
Let's take the example of concrete structures — folding chairs They have in common is that as one, and the other is missing the usual wooden body or frame of their functions, perform yourself a foam cushion enclosed in durable fabric pouches. Based on the proposed idea, consider the possible variants of its implementation.
Here's how can be resolved the chair of the four pillows. One of them is reference, it is mounted vertically and supports the other pillow — the back of the chair, which folded in two, forming the seat. Unfolded they turn into couch, and one piece is connected on top of the joints sturdy strips of fabric, canvas or synthetic leather. This role is a kind of joints can perform and clasp-"lightning" that in practice even better: convenient to carry one pad to clean, embossing or dry summer. As a variant — all three pillows of the sunbeds can be a single the top panel. In this case, the embedded foam Windows when sewing pillows will be the end or the side, also fastened to the "zipper". This solution will cost nothing at the right time to take out the foam, for example, to wash the covers or give them to the dry cleaners.