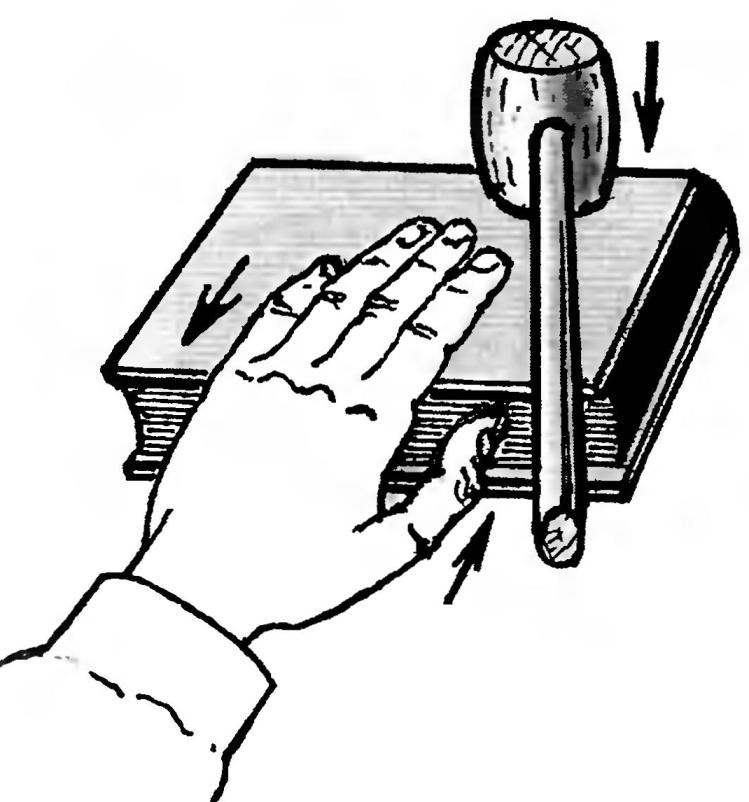 The usual workplace of the bookbinder-professional — large flat table. You can, however, be written or the kitchen table, after putting a sheet of hardboard, plywood or cardboard. Well, when on the table there is a certain order. At the binded books or magazines, tools and materials must be your work place. So.
Before fixation, the binder should be inspected thoroughly the book: to identify defects, to identify actions needed to restore the cover or pages. Suppose that your book's well-worn hard cover and spine, damaged, folds, broken stitching, broken leaves, they are stained with ink and grease stains. The diagnosis is this: needed major repairs, and probably re-bind the book.
Put it on the table, tear off the endpapers and cut the gauze (if it's still a little holding unit) first one side, then the other. If the coating is the binding cap still well preserved, separate from cardboard pair of shoes (with the book's title, author's name, figure) and put it aside until the side. Locate the page where the printed output (it usually happens at the beginning or at the end of the book), and look at the numbers indicating the format of the sheet. It is necessary to know in order to quickly locate the book signature — numbers indicating the serial number of the notebook. For example, the output is format 84×108 1/32. This means that at 33, 65, 97, 129 -, fourth, etc pages below you will find a number of books and short title of the publication. Now, as far as possible, the strut threads (or clear braces), binding notebook, pull cords, count from the beginning of the sixteen leaves, and, holding the block in his right hand, abruptly tear off the first volume (Fig.1). Similarly proceed with other notebooks.