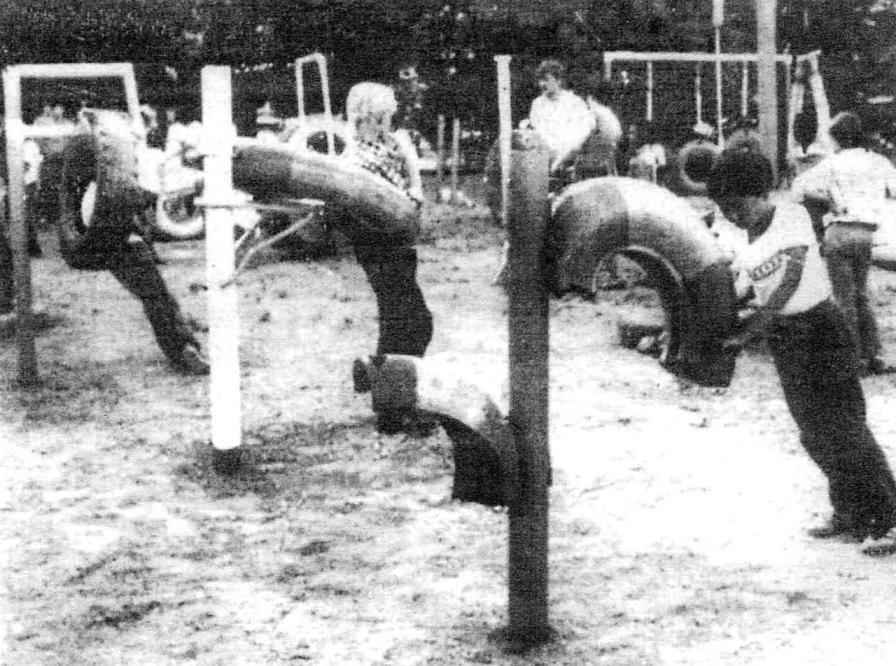 For the proposed universal physical campus, classes designed for both teenagers and adults, just a small free site (dimensions 5×5 m), where you can install 8 — 15 shells made independently from abundant materials (waste tires, dismantled metal pipes, rails, concrete pillars, scraps of cables).
In this town the shells, it is preferable to place the compact that will enhance the effectiveness of training, will relieve us of unnecessary trampling of green areas. Around the site it is advisable to plant a hedge of trees and shrubs that will create additional facilities for training, the greens will have a positive psychological impact on dealing, protects from sun, wind and dust.
Collecting end-of-life tyres, can be manufactured from different sports equipment and fitness equipment. The rubber tread with steel ring — ready elastic element (resistance to stretch and compression) that are suitable for a variety of elastic devices, such as hand and foot correctors. Separate strips of the tread part are useful as the flexible support in order to do the exercises sitting or lying on the stomach.
Offer readers a choice of a number of designs of simple shells for the manufacture and installation on the sports ground.