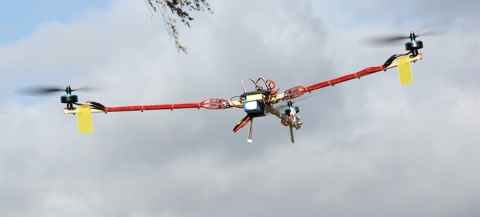 I spent all summer with her son, a soldering iron and Arduino IDE, not in the field with a copter, so now my free translation of article Swede David Windscale (David Windestål, I hope correctly wrote) about the construction of tricoptera — stone with three engines and a rotary mechanism to compensate for the rotation and control the rotation. (please do not walk unnecessarily on the site of the original, as he often falls Habra and under the cut a lot of images).
Since the construction of Trichoptera the first version I've been trying to find ways to improve designs: constantly changing props, motors, speed controllers, length, rays, rotating mechanism, etc. Often I changed a bunch of stuff before every flight. In General, constantly trying to find the best option for themselves.
I love ties. They make the building process easy and fast. They break the fall, taking over the energy and is the key to tracheostomy Trichoptera. Instead of changing the axis motors, which bend is easier to replace a torn tie. And most importantly is very simple to do in the field.