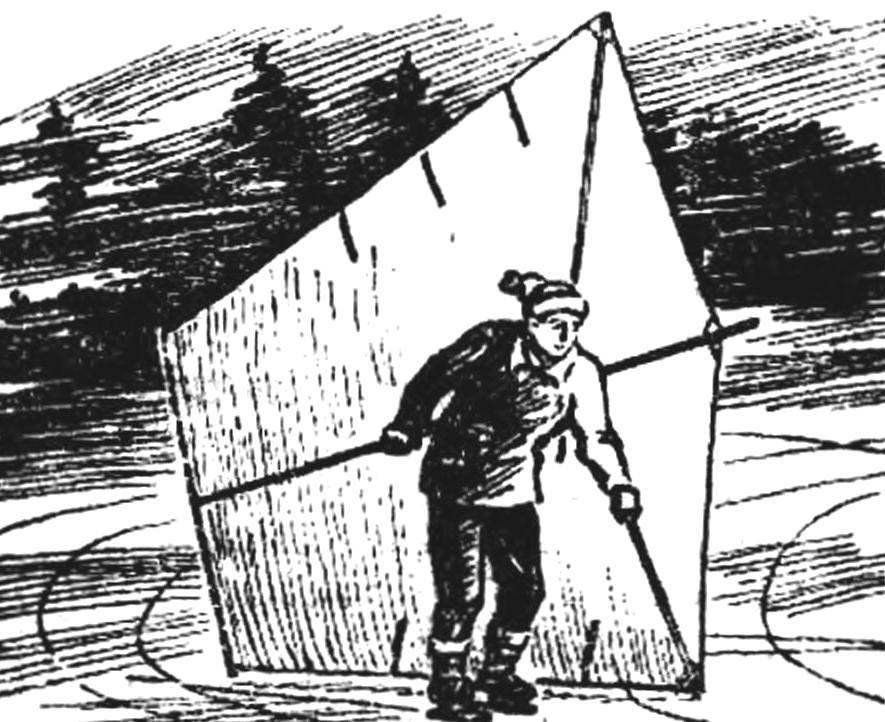 SKIING.
You can go sailing on skis, not installing them on the mast (see "M-K", 1982, № 12), but simply holding it in his hands behind him. This sail has a diamond shape, stretched on the d-pad and consists of a headsail and mainsail. Enough to their total area was 5 m2 and was maintained the approximate ratio of 1 : 3.
Cross formed of two poles with a length of 3.5 and 3 m, are in the crosshairs of contact with each other at a right angle certicom or soft cinch leather strap. Part of the grotto, adjacent to the transverse pole — let's call it lower — prinorovilsya to him through a series of grommets or tied with attached ribbons. Corresponding to the leech of the headsail, as she expected, remains free. Around the perimeter of the sail overlaps the seam, which is sealed from Lectro thin, better nylon rope so that it was possible the corners of the cloth, reinforced botami, bind to the ends of the poles.
The sails are made of Dacron, Dacron, canvas, avizent, filtrates, etc.