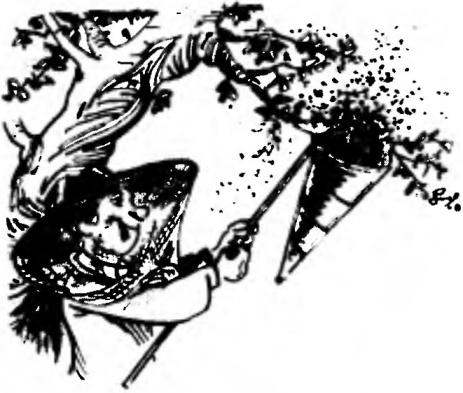 Everyone who decided to deal with bees, one has to prepare oneself to much. Including to what happen alone, "remove" ROI. The point is, I know for myself, is not simple. After all, bees are "grafted" (sit down when swarming) often where a person (without appropriate training, equipment) and get something easy. The situation is compounded by the strict time limit due to the impatience of the swarm, ready to "depart in an unknown direction"…
To facilitate the work of the beekeeper (especially newbie or an professional, old age) and is designed I device. Simple and accessible to independent production, it has proven to outperforms expensive roini by the industry.
The proposed technical solutions (see Fig.) — lightweight, but strong enough treated with propolis cone ("cone", rolled out of fibres from old, worn suitcases) not less than 15 l. And all work with this device is reduced to elementary actions for one of two typical situations.