High summer in the polar Urals. Together with the chief of the survey party we were returning from the upper reaches of the river Secure. Breaking the latest on the slope Qurum, saw an unusual procession: animal-hunting trail that winds its way literally along each river, even in the taiga areas, slowly moving tanned guys, pushing a loaded cart. And although they were on a narrow "quilted" and jumped up and down on the protruding roots, the group easily went ahead. Truck, rather narrow and rather short, well passed among the bushes and young growth, fitting into the "dimensions" of the trail. "Wouldn't it be easier to fit everything into a backpack, than to drag with itself still tapezco?" — we asked. The answer was unexpected:
"Superfluous here — just the wheels, the rest belongs to boats: they are taking themselves". Indeed, after a careful consideration of all elements are parts of a Dinghy. Even the handles were bars of the bulwarks.
By the truck lovers of water tourism introduces its Creator, Vladimir FILIPPOV.
The main condition which I have tried to follow in the construction of trucks for transporting Dinghy "MEVA", was mandatory in its construction of parts from the boat. Except the wheels: they are known, the set of the ship are not included. Moreover, it was necessary to focus on those nodes, the use of which has not weakened the body, not turned it into a self-folding. They were Slane and bulwarks. However, first I had to modify that, by the way, went only benefit: the staff was clearly narrowish.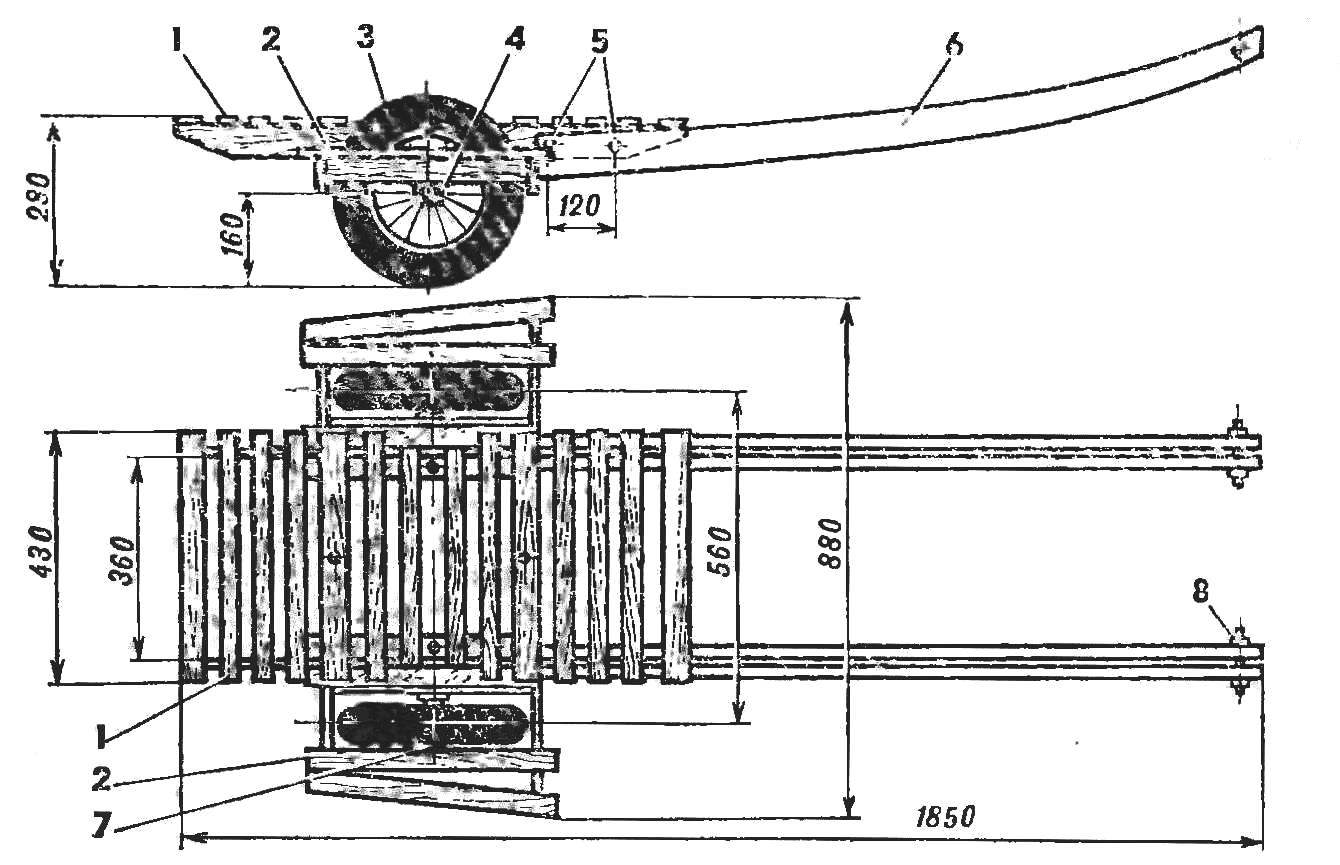 Fig. 1. Truck:
1 — cargo, 2 — frame, 3 — wheel, 4 — plug, 5, 8 — M6 bolts. 6 — handle of the bulwarks, 7 — M8 bolt (wheel axle).
In the new version Slane represent two slatted grille, but one rectangular 430×880 mm, and the other in the form of a trapezoid with bases 800 and 880 mm.
Slani used as a loading platform and the bogie frame, and the bulwarks were her hands. Add had small mounting parts, whose manufacture is easy.

R and S. 2. A cargo platform:
1 — longitudinal strength beams (2 PCs.), 2 — ledge of the rail. 3 — rail flooring. 4 — constipation-spinner. 5 — bolt holes to mount handles.