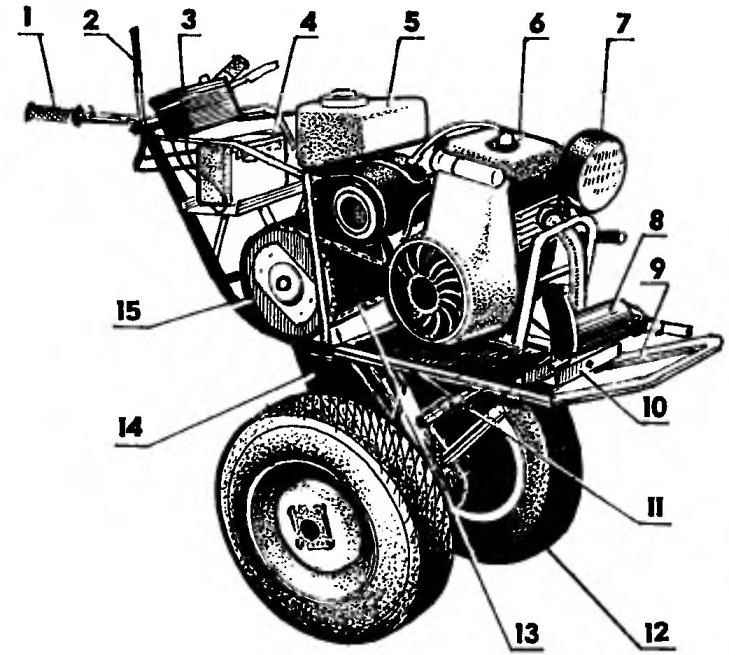 For cultivating soil in garden plots most appropriate mechanism to consider a walk-behind tractor. It has a small footprint and consumes few fuel, has the necessary agility and sufficient performance. The possibility of a quick change to some tillers tillers for others (e.g., plow cultivator, cultivator or Hiller), makes this mechanism almost universal. If necessary it can adapt even under the vehicle to transport goods for short distances on farm roads.
For sale is a lot of models of tillers from the miniature "odnozalnyh" to an impressive— for a dozen and more horsepower, both imported and domestic production. But even our units are not cheap, because this purchase was not carried out, but without the tillers left.
Re-checking the filing of the magazine "modelist-Konstruktor", selected and examined several publications on the topic of self-production of tillers. Convinced that "not gods pots", and believed in their strength that can make a similar unit myself, good experience of a homemade design I already had. Was in there a no metal cutting tools, welding machine, and most importantly — although not new, but working the engine from a cargo scooter. He determined the basic dimensions and layout of the tillers, the parameters of transmission, a set of working bodies.
For design of motor-block — design based on existing power units, auxiliary equipment and materials it took about a month. At this stage, and determined what parts are to be ordered for them had complied with the relevant sketches.