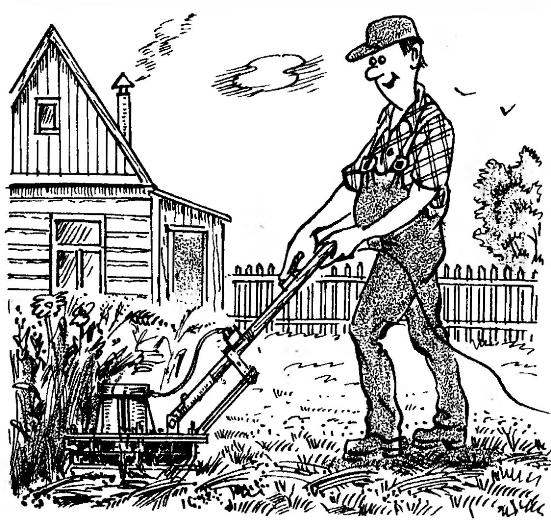 Well the classics! Out beyond the outskirts, in places reserved, the endless expanse, the grass is high, the breeze fresh. All poetic mood adjusts. Here is born: "mow, scythe, while the dew…", "Razzudis shoulder razmahnis hand…"
Ordinary today's "urbanizirovan" peasants (and townspeople — the owner of a small land near the house) sometimes to sublime. Mow-to cut grass often in places where neither hand nor with any mechanical scythe, as they say, especially not at first.
For example, during the processing of a garden planted with trees and shrubs, or flower beds.
You can find the answers homemade design, in which the working body is rotating at a high speed in a horizontal plane knife-cleaver. Some of them the magazine "modelist-Konstruktor" has already told its readers and subscribers (see, for example, n 5 85, 6 85, 4
90). The originality and reliability of these machines is appreciated by the professionals and the tinkerers-it-yourselfers, who have already got the rotary spits. I hope to publish the development will appear no less interesting.
We offer homemade electromobile designed to work in areas with awkward or tight approach. In small areas located within a radius of 30-50 m from the source of power supply (AC 220V). But the design of it is that it is available for self-production, even for beginners. Because it is based on a pretty widespread 50-watt motor (a vacuum cleaner "Breeze-3"). The only detail of the turning — head in the drive unit. And everything else can be purchased in hardware stores or borrow from old, used everyday objects, from aluminum trays to trabalenguas "Lazy" and transformer from a TV veteran KVN-49.