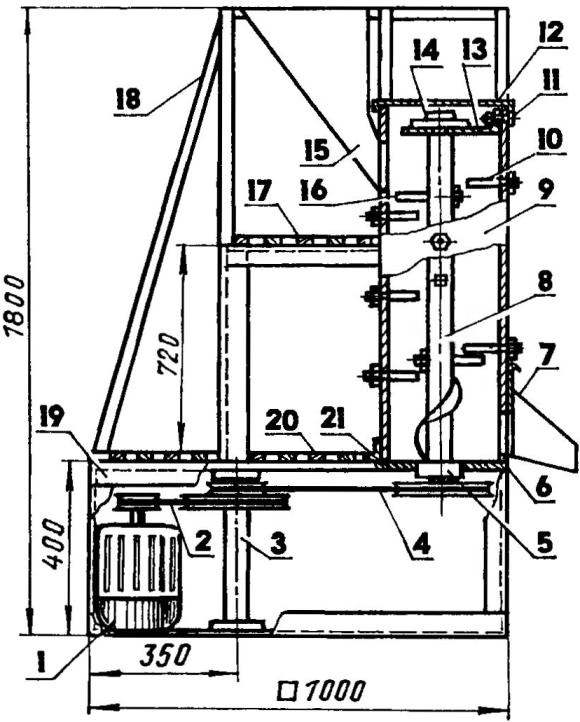 Becoming a farmer, I was faced with the necessity of grinding of beet seeds and alfalfa. Asked how to cope with this problem experienced large farms, and that is, on the image made a more modest car with no clever twists and great performance. At least the needs of my farm, it satisfies completely. And it works flawlessly.
Grinder seed has a three-tiered welded frame of steel angle 45×45 mm. On it are mounted three-phase motor (1.1 kW, 220 V, 1400 rpm) with the intermediate hall and two-stage i = 4, i = 5) V-belt transmission of rotation to the shaft of the agitator and grinding chamber with a loading hopper and unloading chute, the upper and lower wooden slatted deck, the frame-borders.
Housing grinding chamber equipped with a removable working bodies (rods with a length of 140 mm). Three similar studs (but only with a length of 190 mm) mounted on a shaft, the agitator having in the lower part of the weld screw (one turn) to discharge buffed seeds through the tray into the container of the finished product.
Pulleys V-belt transmission is selected in such a way that the speed of rotation of the working shaft does not exceed the optimum, which for cars of this kind is 70 rpm In the original diameters of the pulleys are respectively for the first stage 80 and 320, and for the second 80 and 400 mm.