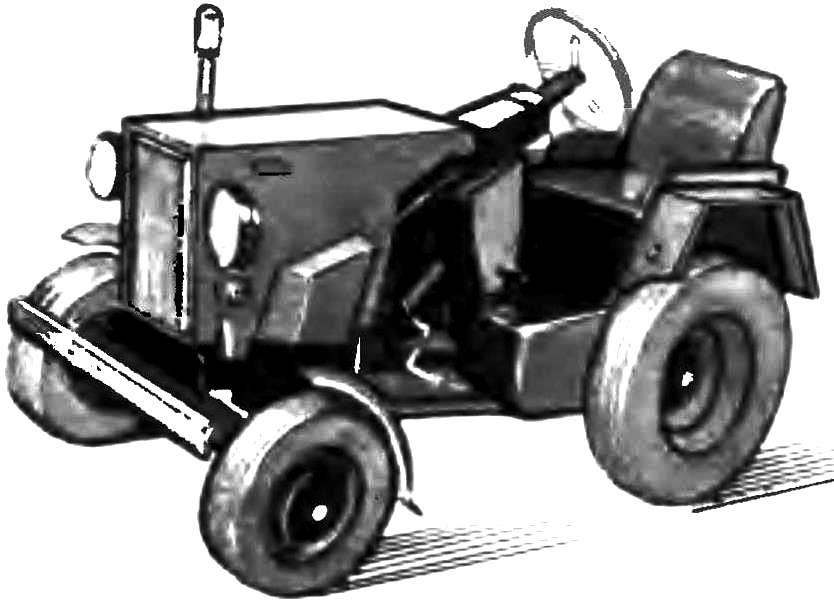 No short supply differential or planetary rotation mechanism, able to somedelicious nor difficult to manufacture the overrunning clutches is not required for the mini tractor (MT). The torque here is transmitted to each of the drive wheels regardless of their… of the motor. Moreover, the design of the machine is that allows you to change the ground clearance and track.
Mini-tractor turned out to be extremely successful and reliable, and its design is very technological, acceptable to "replicate" in Amateur conditions.
Initially, a mini-tractor (MT) was conceived to create only as a vehicle for the needs of the garden. Was chosen as a suitable kinematic scheme; managed to get the "case" front and rear wheels, the power unit required power. But with the differential coupling (universal joint) shafts are not lucky – the deficit!
The situation seemed almost hopeless. And then saving idea: to use the capabilities of hydraulics from the already used, decommissioned equipment? Suppose, for example, the power unit drives the oil pump. Creating pressure in the hydraulic system, that, in turn, is able to ensure the normal operation of the hydraulic motors which could be place close to the leading (rear) wheels. Each of them was rotated from its hydraulic motor. Naturally, with its mini-reducer. A desired mode and direction of rotation are easily set with our standard dispenser for 3 or 4 (like a tractor "Belarus" or the excavator MTZ-80) working position (position).
The kinematics (see Fig.) managed to simplify to a minimum, get rid of the differential, and drive shafts. However, the machine gained the ability to turn almost on the spot (when one drive wheel is moving, e.g., forward and the other in the opposite direction).