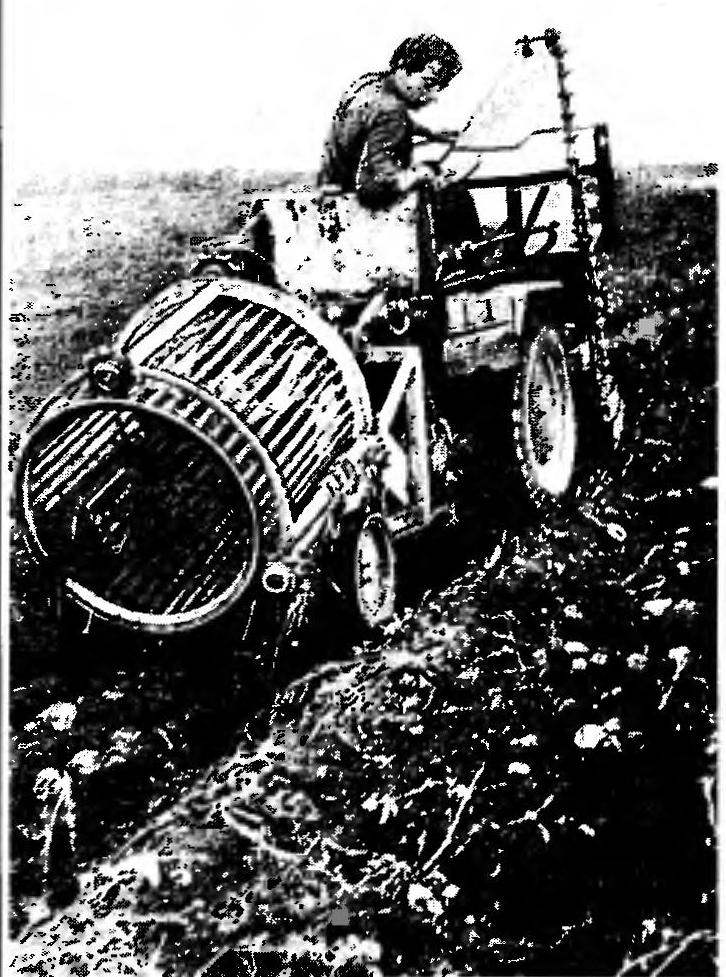 "Hello, dear editors! Write "M" from 1969. Drawing magazine has fulfilled a number of projects. Pleased with them, that is, on all hundred. Particularly pleased with microtracker Amurchonok, has become my reliable assistant. He will plough the ground, and weeding perform, and hilling plants with it — no problem. And required construction works: load, which should drop the mortar (concrete) is thoroughly kneaded. I would like to equip your microtracker potato. The same as in the photo stitch "M-K" 5'89. If you publish the blueprints, then the fall will have time to do everything. To harvest potatoes to carry on their plot for not using old-fashioned shovels, and a modern, mechanized way.
Letters with a similar request to the editorial office received a lot. The response to them is published below the joint author of the material that interested readers design potato digger and a special correspondent of our magazine.
we offer design is intended for mechanical harvesting of potatoes. Moving behind microfractures in the aisles, this trailer unit a spade-like blade "rips" the soil (to a depth of 100 to 120 mm), digging tubers. Together with the land and leaves they lean on the chain-rod conveyor of the Elevator. The earth is sifted, and potatoes, cleaned from the remnants of the stems in a rotating drum, a row is placed at the rear. In parallel, twisted lies almost in the rope plant.
Loss and damage to the crop is reduced to a minimum thanks to the sophistication and reliability of the design, and the appropriate track width of the tractor used, the distance between the wheels supporting-the hub of potato digger aisles. In this case, 2×560= 11 20 mm and 560 mm (see figure).