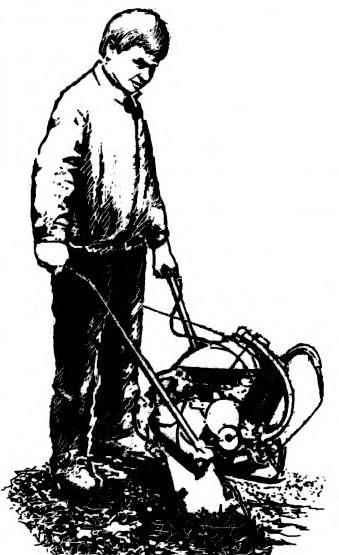 To the earth-the wet nurse turn now your eyes many. However, having obtained their allotments, others face a problem: what is his handle? Without reliable metopomancy virgin will not raise, but most of the ability to purchase or self-production — more than modest.
All of these conditions were considered members of the Ishim station of young technicians who have designed and constructed a simple tiller. It is simple and therefore, reliable kinematics. The power unit of the cultivator is relatively cheap and common monovelocity the motor D8. This single cylinder two-stroke carbureted engine with crank-chamber scavenging. In order to tailor the engine for a tiller, had to perform a small, but proved a very valuable improvement.
In particular, rather just the replacement of air cooling of a liquid: to cylinder of the engine machined to the exhaust pipe with cooling fins is attached a suitable size capacity — the two-litre tin. From above into the gap between the cylinder and capacity of the inserted stop splattering of water, which successfully serves as a wire "thread waste" — in the hardware stores this is sold as a metal sponge for washing dishes. Cooling system evaporative type: until all water from the jar doesn't boil away, the temperature of the cylinder will not rise above 100°C. it is only Necessary to refill the water, and to be concerned about the engine overheating is not necessary.