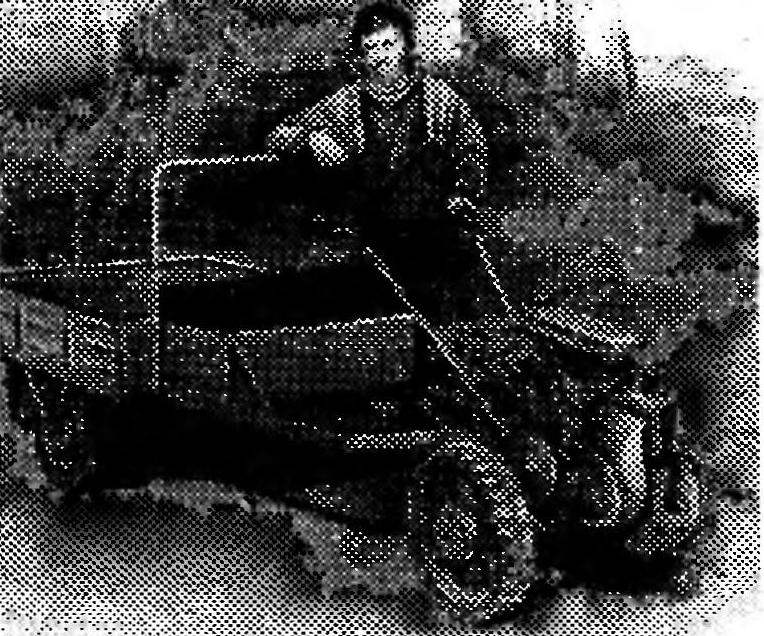 The need to have in personal possession a nimble and reliable metabolomic I (as probably many others in a similar situation) keenly felt, when he became the owner of a suburban area. On a mini-tractor of forces and means is not enough, therefore, decided to limit tillers, focusing on development that are found in binders "Modeller-designer". The matter came creatively. As a result, fortune, which is published in the "Panorama" ("modelist-Konstruktor" No. 10 of 1984). Collected for the first own hands a cultivator followed by a second, third… And now the fifth, successfully proven in practice design (Fig. 1).
Tillers with maximum use made of industrial parts and components. In particular, sprocket and chain PR-15,875 — from discarded farming machinery. As, however, and overrunning clutch with rubber wheels. As a final good is a "suspension" of the rake GP-14. But it is possible to adapt and that offer through the trading network, the creators of the widely used industrial motor cultivator "Mole".
"Energy heart" of the structure in question is the power unit T-200 (or similar, like on the scooter cargo "the Ant"), Intermediate, and output shafts of a two-stage chain transmission is installed in ball bearings 1680206С17 with tensioning sleeves (from straw walkers of the combine harvester "Niva"). Moreover, the housing of these bearings are attached to welded frame-muffler bolts M10, "zakonchennyi" nuts with washers.
Fuel to the engine flows by gravity from the bracket is installed on cosine (rear) and two 200-mm studs M8 (front) of the tank (taken from a motorbike). As shown by many years of operation, this solution is justified.
To the tillers while driving "behaved" quite stable, transmission of torque to the wheels usually tend to implement via the differential. However, I acted differently. Instead of the costly differential ventured to use a roller freewheel with charged grain drill. In the presence of certain tokarno-mechanical skills you can do it yourself. The more that each one has only three (Fig. 5) basic, not so difficult to produce item: ferrule, hub and operating as a unit triad movies.
During the rotation of the hub in a clockwise direction the rollers are automatically rolled in the tapered cavity and zakleivayut. The result is a clutch coupling for transmission of torque in the desired direction. If led detail overtakes the lead, the rollers roll out of the cavities, raceplay "kinematics".