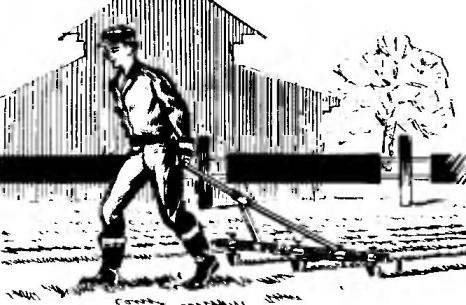 The experience of potato growers says the Dutch technology of cultivation of root crops is the most efficient, and the work is minimal. And rows of clean, smooth, and the harvest excellent. And the basis of all — well organized boarding and, of course, good equipment. I offer readers a short story about the technology and the design of small hand harvester — experienced assistant growers. It can make any novice homebrew.
After the garden is tilled, the entire area of the cut groove under the potatoes. For example, the same hand-harvesters. They throw seed tubers germinated better, but you can just rested 3 to 5 days in the light. Then between the grooves are a harvester or a plow-Hiller (development published in the journal "modelist-Konstruktor" No. 5'97) — and the whole potato is covered so that it requires farming.
Some closing seed instead of trying to combine or plow-Hiller to use a very common discs. But soon abandon them, because the soft plowing discs, cutting deep into the ground, turn huge clods.