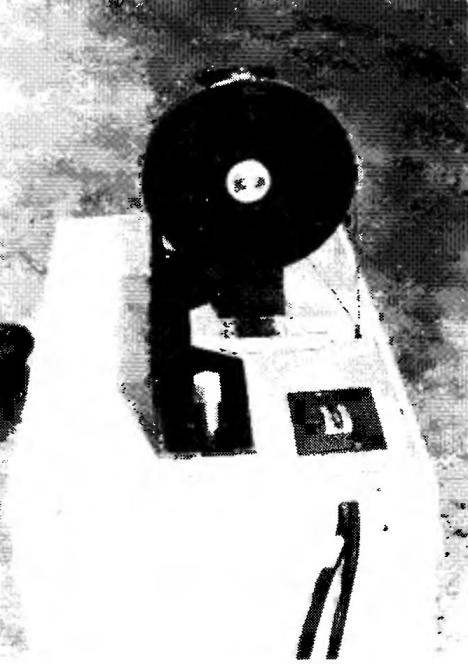 In the tool Arsenal of any mug or a self-respecting modeller-athlete of the device for sawing wood takes a special place. Many problems can be solved with the help of a specialized band saw blades created by their own hands. Using the recommendations proposed article, play this device simply. But then you will be rewarded: your creation will not only effectively and efficiently to saw wood, but significant savings, for example, scarce the balsa.
Desk machine (dimensions 420×720 mm) is made of plywood 20 mm thick, laminated on top of PCB. On the perimeter he is enclosed by strips of solid wood. For wiring sawing strips in the table provided narrow grooves. Base — box size 420x720x500 mm, glued with 20 mm plywood. Among other things, he collects the sawdust.
Supporting rod — cut channel number 8 with a length of 680 mm, the shelves of which, for convenience, cut to a height of 20 mm. is Attached the rod to the table using bracket area is 40×40 mm and four M8 bolts. Pulleys belt drive saws are made of plywood with a thickness of 20 mm. At the work surface they are pasted over thick sheet rubber, docked on us. Used polyurethane glue, although you can use "Phoenix" or similar. After storage of the pulleys, the wood is impregnated with epoxy resin, polished and painted. The working surface is attached to bochkoobraznoj required to keep the saw running of the tape. The upper pulley is glued with epoxy resin bushing made of aluminum, which is machined slot under the bearing 60203. The lower pulley is placed on the axis of 30KHGSA steel type and fastened by three screws 5×20. The axle is inserted in the journal box with two ball bearing 60203 mounted on the lower end of a support rod. At the other end of the shaft through a spacer sleeve is fixed a driven pulley belt drive. After installation, the balancing of belt pulleys. The principle of operation and the dimensions of the parts of the system of tension of the sawing tape is clear from the above figures (section a-A).