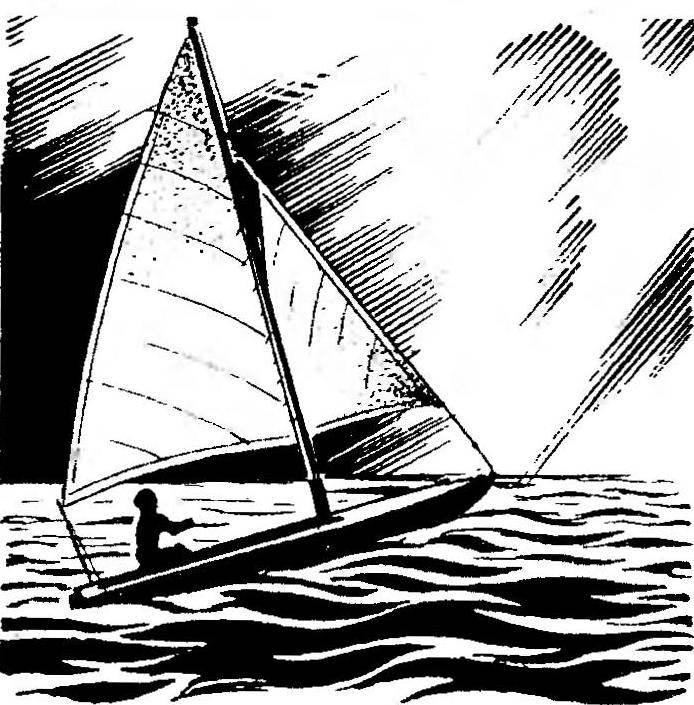 When your Arsenal includes a rowing boat and you got a taste for walking on the water, certainly not once thought to put on her beautiful light sails, so that you can feel in them firmness a pleasant summer breeze, holding your almost yacht at a good speed. Publishing the drawings, which you can extend your ship and equip it with these sails, I hope to walk under them you will be no less pleasant than rowing.
We offer sailing rig consists of a mainsail and headsail. The first is attached to a four-meter mast with lacing, raised the main halyard, thrown through the block and is controlled by the main sheets. Similarly the staysail is attached to the forestay, raise the jib with the halyard, passed through a block at the top of the forestay. Management of a sail is the jib sheets threaded through the piles.
The main part of sailing arms — it's wooden mast, pivotally mounted on a special support — the steps that lets you quickly put on or remove. It is fixed in the raised position, guys and stays. After raising the sails up all the loose ends are fixed on the ducks. The mast is made of pine or spruce logs and has a mainly circular cross section with a diameter of 40 mm, and the bottom part has a square size 40×40 mm. On it are mounted: bottom node with two ducks and clip the top node with three clamps and the clamping block mainsail is the halyard.