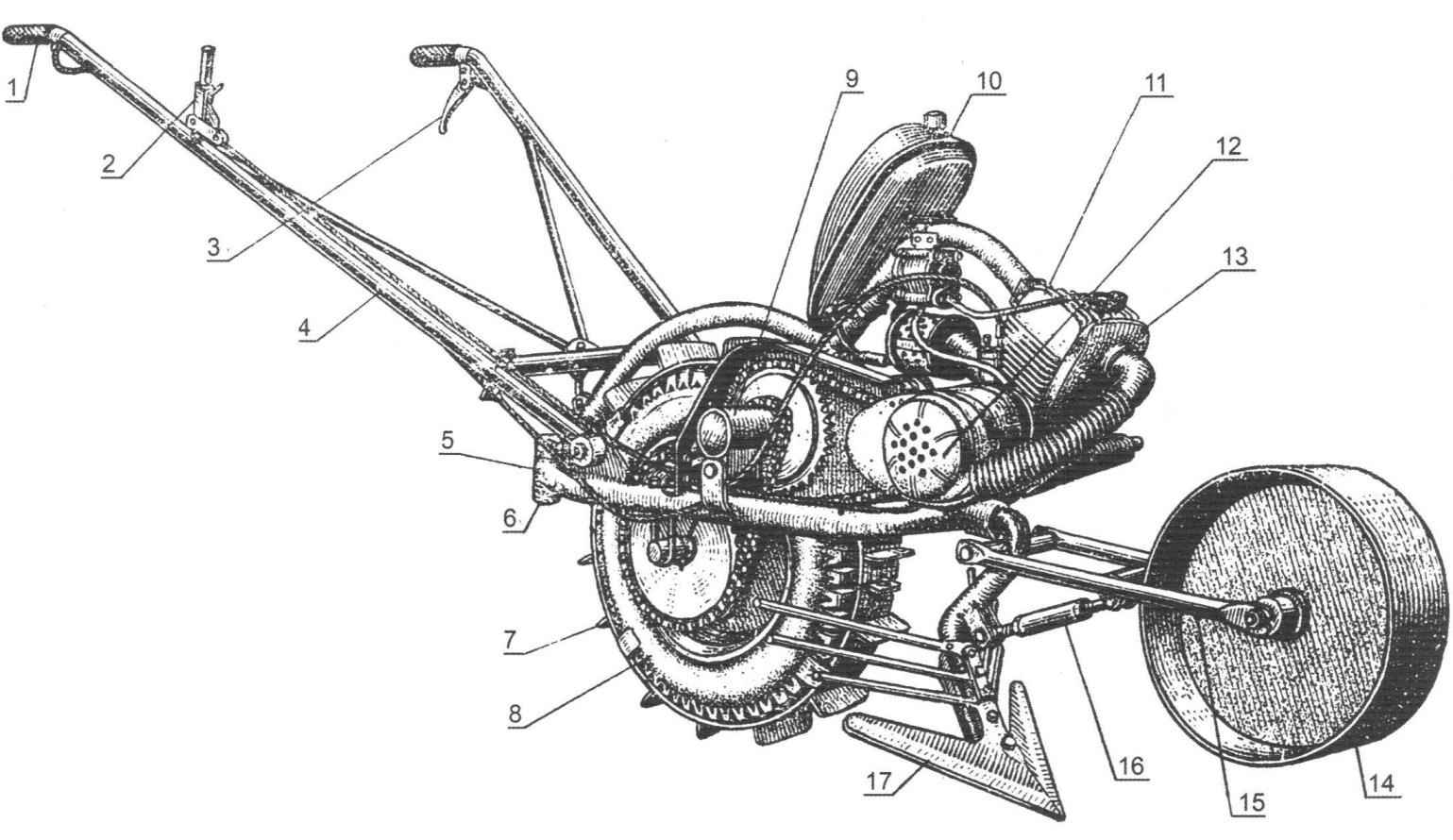 Among the variety of tillers, microstructural and any other motor vehicles dominate Amateur-built machines, assembled from serial components and assemblies. The selection of a standard motor for most cases it is justified and necessary. But the use of ready-made frames, rear axles, transmissions, gearboxes, clutches almost always makes the homemade is too heavy, bulky and unsightly. A more promising design concept – using the minimum required number of standard units. Such mechanisms, although more laborious to manufacture, but allow the author to realize the most daring design ideas.
Such machines include a one-wheeled tillers, built our reader from Estonia E. Pabriksom. Self-made frame, gears and suspension helped to create the design of optimal mass and dimensions.
In the "M-K" is not just talked about different designs and the complexity of the tillers. They were mostly two-wheeled options. I think that the homebrew in vain underestimate the dignity of the unicycle scheme. Indeed, such a cultivator is a simple, inexpensive to manufacture and operate, lightweight, and therefore less soil sealing, maneuverable – able to work where two-wheelers do not go, and finally, easy to store – it can be hung up using bracket on the wall. On the other hand, such a scheme places high demands on the layout of units, since the position of the center of gravity of the machine in longitudinal and transverse directions determines the ease of working with it. When installing the engine over the wheel – even of small diameter – the overall center of gravity is pretty high. In addition, with the relatively small mass of the necessary traction wheels with the ground a mere development of the cleats is not achieved. The solution to both problems is to shift the engine forward. This provides the minimum height of centre of gravity and at the same time, there is an allowance of force pressing the wheel down due to the balancing pressure of the operator on the handle. The extra traction helps in the cultivation front of the working body – the horizontal legs having a negative angle of attack.