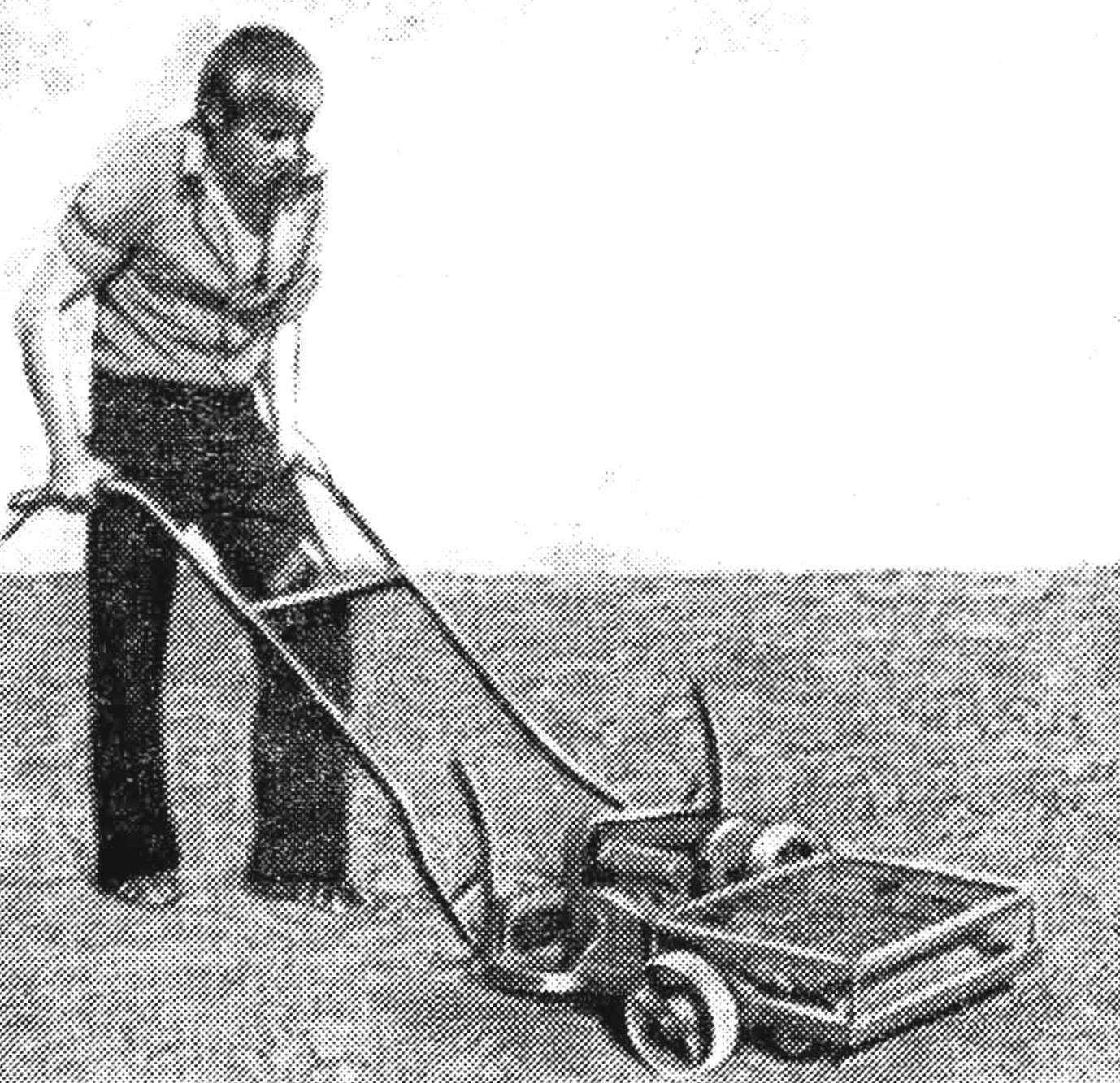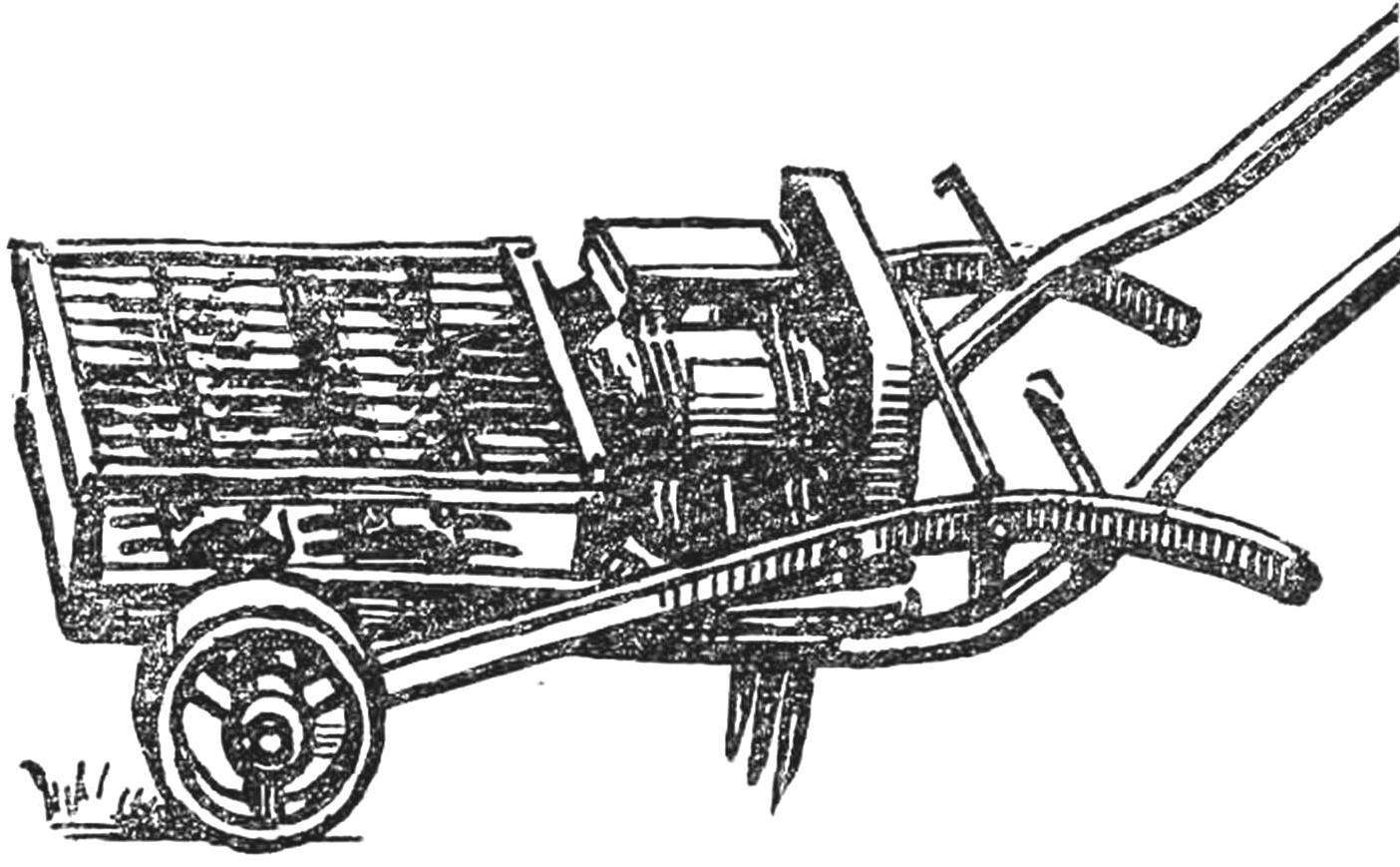 What could be simpler than a rotating roller with teeth! Bumping clods of ploughed soil, he crushes them like a harrow. Peg line Ripper developed members Vorovskogo mug enemskoe school Rashid Salikhov and Adam laiuk. Young designers have made the main working bodies of two steel kolkovich a roller and a rake with long teeth. When you want a superficial loosening of the soil, has some rollers, driven by electric motor. Transport wheels at this time raised above. frame.
For deep cultivation with a lever the rake is moved from a horizontal position into a lower, vertical, and they are digging into the ground. Peg line cushions become leading, dragging the rake behind him.
If necessary, stronger grind soil rake dig even deeper, causing the stalling kolkovich rollers, which are beginning to loosen the arable land, grind the clods.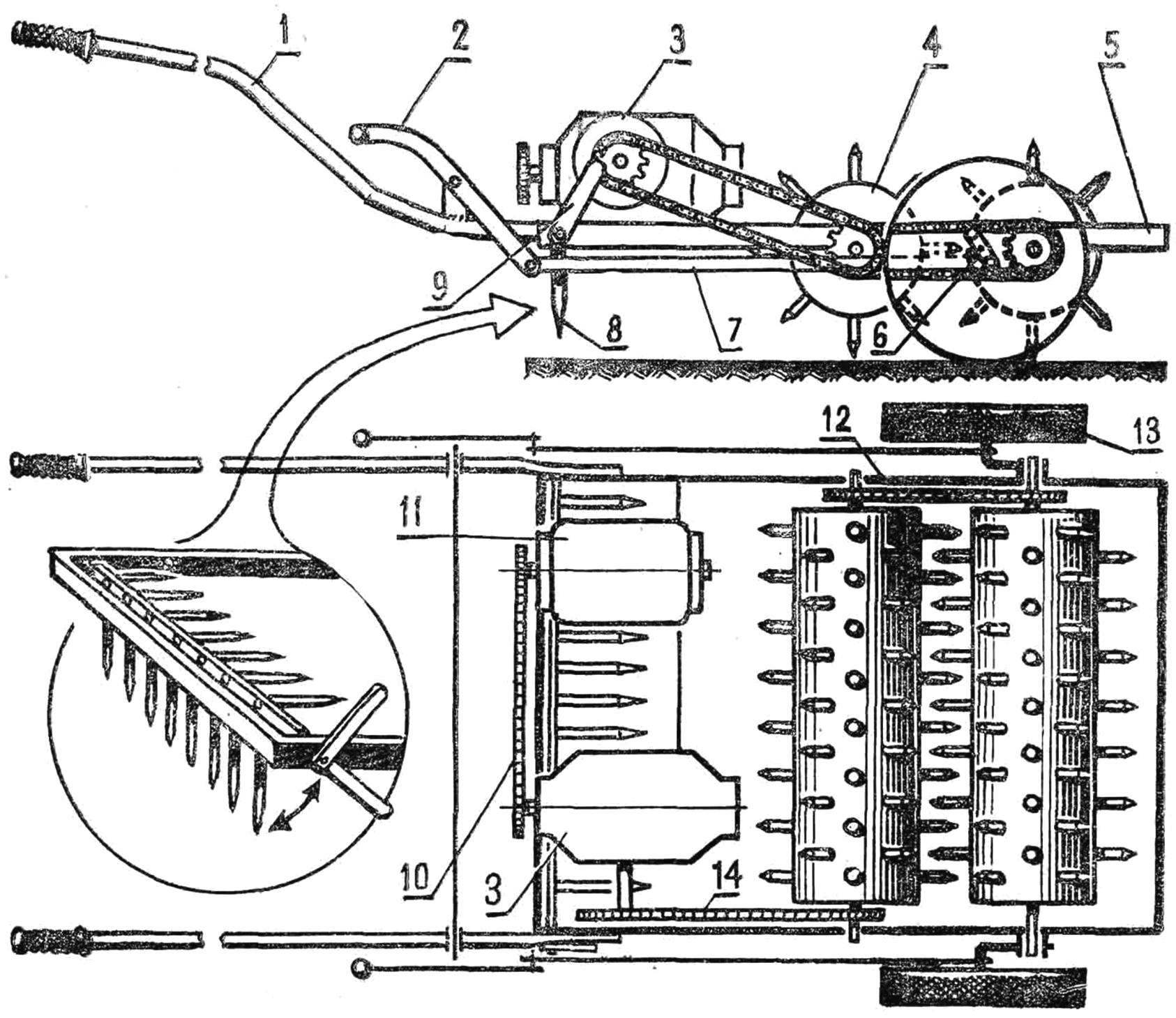 peg line ELECTROTECHNICAL KE-1:
1 — stick, 2 — lever transfer into the transport position, 3 — reducer, 4 — peg line shaft, 5 — frame, 6 — wheel suspension, 7 — lever rod, 8 — rake, 9 — lever rake, 10 — chain transmission, 11 — motor, 12 — chain, 13 — transport wheels 14 — chain transmission.
Thus, from a simple rotary cultivator turned the mechanism of an entirely new quality. Below is a diagram of a small
peg line electrodyalisis.
TECHNICAL DATA peg line SPECTROGRAPHICALLY KE-1:
Weight 24 kg, length with handles 1700 mm, width 680 mm; electric motor with a capacity of 0,5 kW, working voltage is 36 V, the rotation speed of the spindles 60 — 80 rpm; cutting width 360 mm, depth from 20 to 100 mm (when using the rake); capacity (depending on soil) from 0.04 to 0.06 ha/h; cushions and chopping steel rollers diameter 100 mm, pegs length 50 mm, diameter 16 mm; the length of the pegs of the rake 120 mm, diameter 16 mm the distance between the pegs 45 mm; transport wheels cast-iron, with a diameter of 200 mm.
Recommend to read
WARDROBE FROM WARDROBE
Early furniture has served its owners for quite some time, sometimes even several generations. But in our time it quickly becomes outdated morally — design or design. And then this...
ON THE INSTRUCTIONS OF NATO
Fighter-bomber FIAT G. 91. In February 1952, at the ninth session of the Atlantic Council in Lisbon, the decision was made for the NATO standard combat aircraft is a light fighter-bomber...