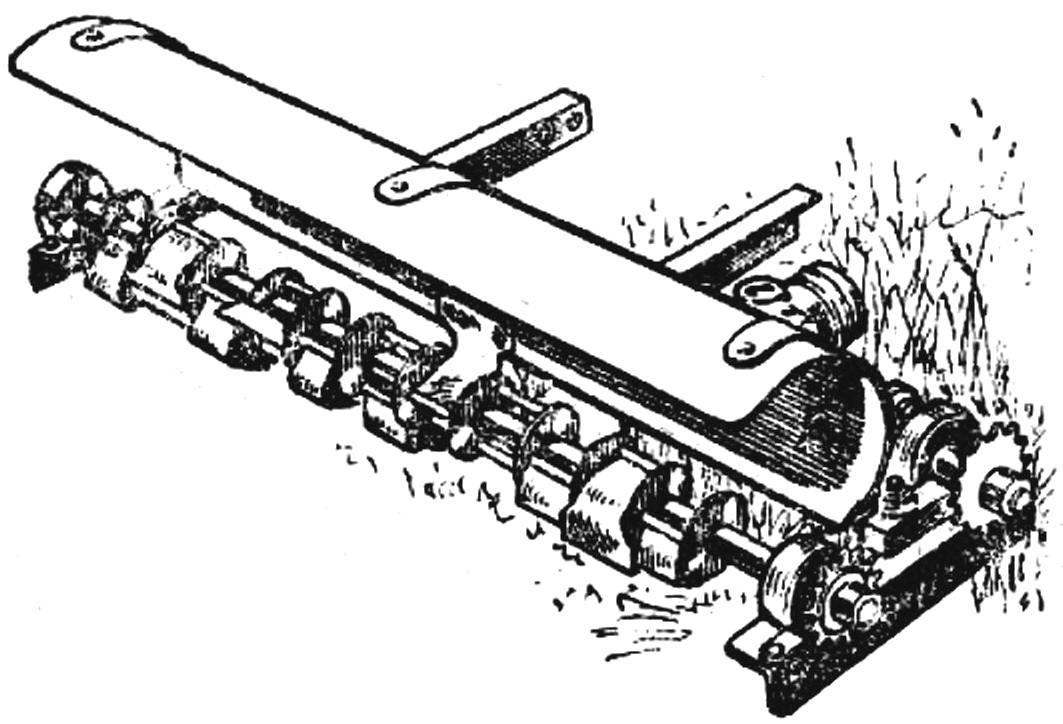 We return to a universal small-sized agricultural machine WSM-2 "Cinderella", designed and built by members of the primary organization of VOIR Seversk secondary school № 44, Krasnodar region ("M-K" №9 1980, №6, 1981). Designed for use on the school experimental plot, student production brigades, in the household plots, collective and state greenhouses, USM-2 can already carry more than a dozen kinds of operations. Nevertheless, Seversky, students continue to improve "Cinderella" — come up with new and new agricultural tools that extend its capabilities. Today we will talk about two such soil-cultivating aggregates: cultivator and mower.
The unit is designed for loosening soil to a depth of 100-120 mm in width, 540 mm in a single pass. It is attached to the rear of the frame, USM-2 with four bolts and is driven by a chain from a sprocket located on the left side of microstructure on the shaft of the worm gear (Fig. 1).
Suspension of "Cinderella" in this case being converted into a one-wheel option: front wheel freely rotating with the rotation mechanism is removed, but instead put him more — more, which then connects by a chain drive with gear motor. To the frame of "Cinderella" before the cutter is attached to the controller of the embedding, consisting of a small wheel-roller and regulation device.