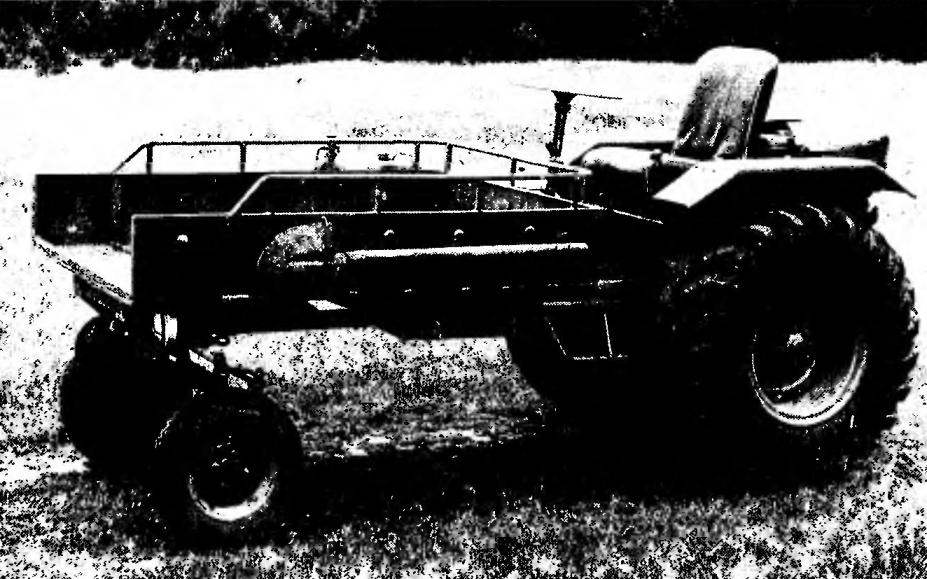 Self-propelled chassis, called the "Bull" that I built over ten years ago. For such a considerable time of operation the machine showed itself unpretentious, reliable and workable. The layout of its classic truck body front, the driver's seat (in this case it is open) and the engine — rear; front axle — steering, rear — host. "Bull" is primarily designed for the carriage of goods weighing up to 500 kg with a speed of 35 km/h. But it is possible to work the ground. We only need, say, before plowing to replace the sprocket gearbox for a large, which will give increased traction, and attach the plow. Also, using a PTO shaft to hook up and operate a circular saw, water pump, mower, etc.
The basis self-propelled chassis frame is fairly simple outlines. It is welded from thick-walled tubes of circular and square cross-section. Numerous spot welds are reinforced with gussets and plates of steel sheet with a thickness of 4 mm with ease holes.
The frame is fitted with various brackets for mounting units of the power plant, transmission and auxiliary equipment. Thus, the left console frame has an angled bracket screwed to the gearbox of the winch (cable drum, it is drawn by the bolt to the jumper). Front beam carries a suspension unit of the front axle, made of steel sheet with a thickness of 25 mm and reinforced struts. The Central beam is welded to a bracket made of steel channel for mounting the steering column. Further on the longitudinal members hosted "paws" fixing the transfer case, the longitudinal arc of water pipes with corner brackets of the wings, the transverse arc with the studs of the frame of the tank and plate (u) support the rear axle. Finally, the beam is welded to the back area of the gearbox and engine mount, the cradle where their front end is still attached to a transverse arc. Above is a bracket for front mounting the engine Assembly based on the two ribs, welded to the cradle. Octagonal trim plate connects the bracket and the transverse arch.