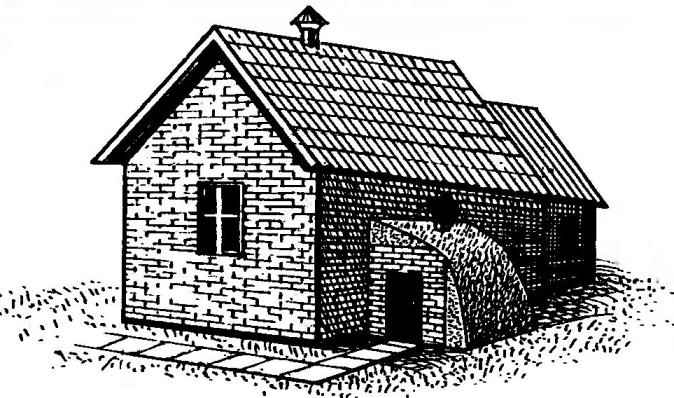 Despite the widespread use of electric refrigerators, such as the construction of the cellar maintains its position. Especially in rural areas and in suburban areas, where in these, prudently organized, compact storage with a good waterproofing and ventilation that supports the required temperature and humidity conditions, keep foods that do not rot and do not shrink, do not lose their taste and smell. However, if used, the most common were detached cellars, today in order to save area, many prefer the compact storage of vegetables, fruits and homemade food, is equipped with a summer kitchen, a barn, a garage…
In particular, I have prosaposin an addition to a blank wall at home. This so-called wall, totally safe storage (Fig. 1). Its design is reminiscent of the popular option of an extension-greenhouses (see, for example, material published in No. 1 of the journal "modelist-Konstruktor" for 1998). It is not surprising: the underlying parts in both cases are the wall of the house and a mini-pit. But there are significant differences.
In the greenhouse, as we know, is the greenhouse effect. The same heated wall of the cellar in winter is mainly due to the soil (deep) heat, with the introduction of heat Supplement derived from the wall of the house. The temperature in this vault is supported and stable in the summer, because of the depths of the earth in the cellar flows the comparative coolness as the soil at this time has a lower temperature than the surrounding outside air.