To build templates of the screw (side view) for a given shape of the blade (top view) and the step there are two main methods of calculation: analytical and graphical. Usually based on the following characteristics: diameter, the relative width of the blade and step. Since the amount of slip is difficult to consider in advance, based on the geometric pitch.
From figure 1 it is seen that the tangent of the blade pitch angle (α) in any cross-section associated with step (H) and radius (r) of the screw at this point the ratio:
tgα = H/2nr.
Fig. 1. Step screw and reamer screw line:
R is the radius of the blade, r is the radius of the blade section, H is the screw pitch, is the circumference described by the cross section of the blades,

2nr

— scan circle in the plane B — helix, described by the blade, B' — scan helix in the plane

α

— the angle of the blade.
From the equation it is possible to determine the thickness of the blade in a side view (b) (Fig. 2) knowing the width when viewed from above (a). In the same section. located at a distance r from the axis of the screw, true equality:
b = a*tgα.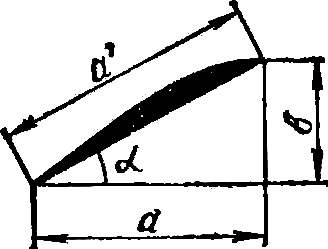 Fig. 2. The cross section of the blade:
a is the width of the blade when viewed from above, b — width of the blades from the side view, a' — actual width of the blade,

α

— the angle of the blade.