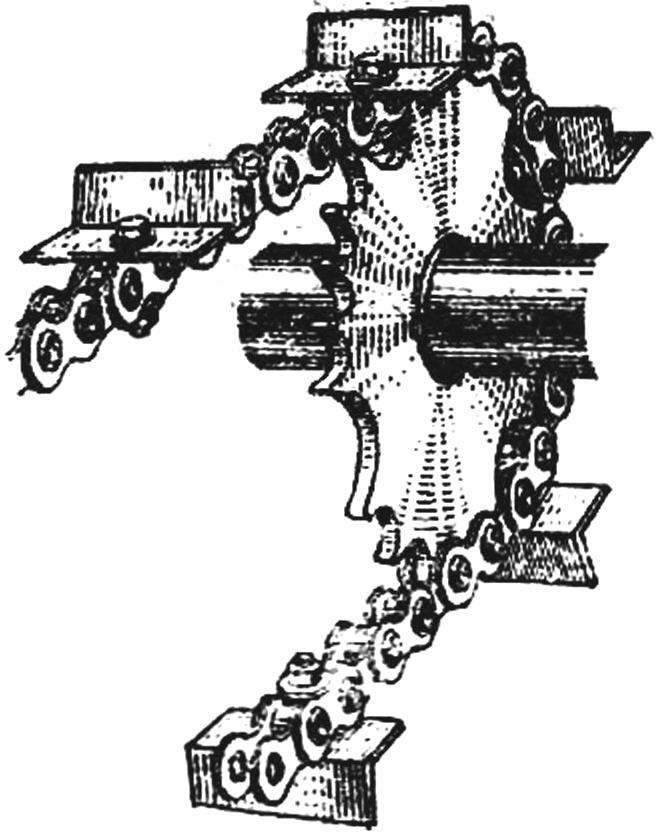 I want to share the experience of producing a fairly simple tracks for motionart. Many fans of the design familiar to the complexity of this node. It is much easier if the basis to take any roller chain. For example, I used motorcycle. No additional reinforcements are not required: margin of safety it proved sufficient for the new scope.
Out of the corner lugs are fastened with bolts or rivets, the noise inside the even. The distance between them should be the same — say, five units on the sixth. This will give the opportunity to modify accordingly the leading asterisk: every sixth tooth cut it for passing gr/Netscape and provide a light interference fit and reliable operation caterpillar. Hence the requirements for the sprocket, number of teeth. For example, to install the cleats in five parts sprocket originally supposed to have 12, 18, 24, 30, 36, etc. of the teeth.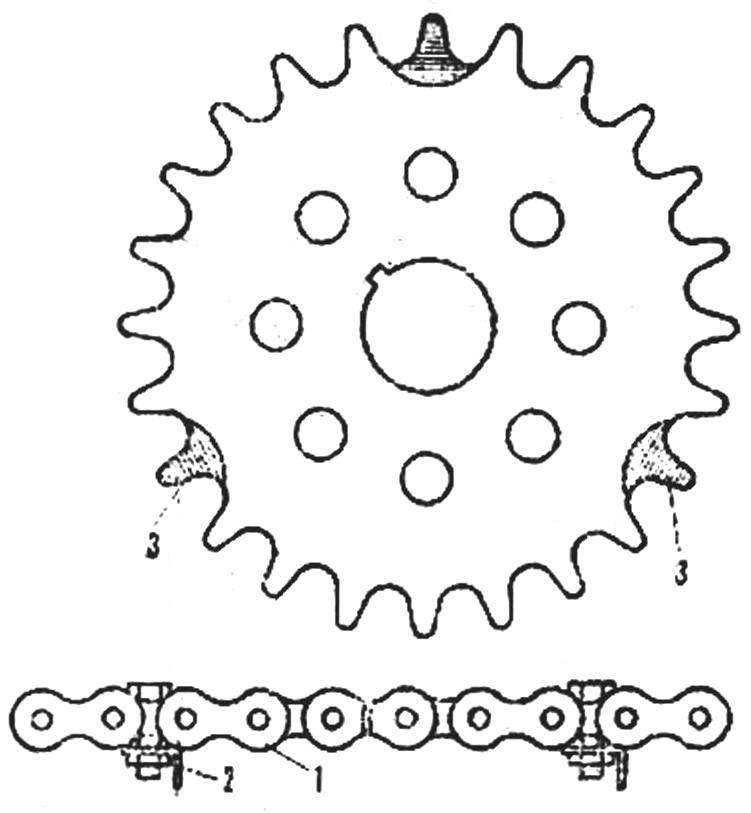 The caterpillar of the chain and sprocket to it:
1 — motial, 2 — grouser, 3 — cut the teeth.
The simplicity and range of capabilities Taco caterpillars obvious. The length and height g/nasacast, chain type and step can be chosen such that the most fit design motoart and power used on their engines, and it provides the Amateur designer a choice.
I would be happy if this hint will help enthusiasts snowmobile technology.
A. SMIRNOV, Kurtamysh, Kurgan.
Recommend to read
TO SHORTEN WITHOUT CUTTING OFF
My bike is out of order camera of one of the wheels, and replace it was nothing, the store sold only camera larger diameter. However, the solution is found, and very simple. I brought...
IN THE ARMS OF THE CLAMP
When driving round a pin in the prepared hole in the particle Board there is a danger that tightly the incoming rod will break loose material. To avoid this, pre-shrink this place a...