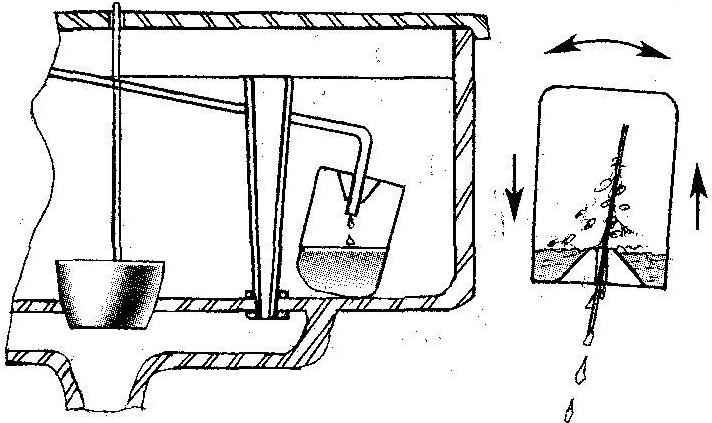 Once ceased to overlap the water in the cistern of the toilet. It turned out that the plastic float is stuck in the down position and through the unsealed hole for the end of the lever is filled with water.
To release the float and pour from it the bulk of the water work, of course, was not. But some water still remained, and to retrieve it failed — because the upper end with a hole for the float has a conical shape (like old inkwells-"neprolivaek"). Surfaced in memory the Council published once in the journal "modelist-Konstruktor" to drill into the top edge of the float hole through it to drain the water and again to fix it in any way.
To make a hole in the float was not the desire, but even more didn't want to leave the water in it. I decided to try to pour it so: put in the float rod with a thickness of about half the diameter of the hole and began to float with rod to shake. Squirt, getting on the web, flowed over it through the hole, and after a few seconds the float was released on the og of the water completely.
A. NIKOAEV
Recommend to read
NOT ONLY DECORATIVE
Here, as they say, and nothing to do: gathered to the studs lattice of smoothly polished skin of thin strips and is beautiful. But if in your cross-hairs to nail another wooden plaque —...
CLEAN — THE GUARANTEE OF QUALITY
A good master always holds his instrument clean. Thoroughly washed with cushion will give a uniform coating of the painted plane, and that it is not collecting dust during storage,...