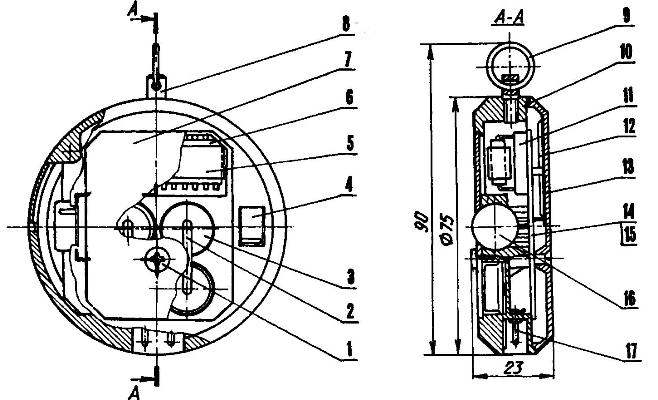 The development of purpose, verbal stimulation initiative attitude to improve the health and addictions… assistance in the development of these and other qualities will have the device, protected by patent of Russian Federation № 2109523. The design is presented to the readers.
The attractiveness of the development attached as availability of manufacture in a home workshop, and proven method of self-hypnosis on Cue with elements of neurolinguistic programming, the underlying operation of the device. With regard to the effectiveness of the device, it depends on many factors, including the duration of the verbal action. The recommended period of continuous influence of the formula of suggestion, aimed, for example, for high-quality preparation for the exam, from 10
days to 30 days.
As can be seen from the circuit diagram, the key mobilizer of the abilities includes a two-frequency master oscillator DD1.1—DD1.3, a multi-bit binary counter DD2, DD3, reprogrammable storage device (ROM) DD4, digital to analog Converter (DAC) R7—R14 and the output stage DD1.4, the load of which is an audio Converter BQ1 type CP-5 or CP-22.
When you turn on the power supply via the capacitor C4 and the resistor R6 begins to flow the charging current and to install (reset) circuits DD2, DD3 to its original state. The output potential of the high order counter (pin 13
DD2.2) becomes equal to logical "O" and opens DD1.3 (terminal 9) and ROM (findings 20 and 22). Through the diode VD1 to the logic element DD1.3 is disconnected from the conclusion of 6 DD1.2. Generator (DD1.2 and DD1.3) are formed of clock pulses with a frequency dependent on the capacitor C2 and the resistor RZ, R4. Preference 16,11 or 8 kHz. Continuous adjustment of the frequency by variable resistor R4.
Now starting to work counter to the logic elements DD2.1 and DD3 with sync differential chain СЗR5. And since its output level is connected to a ROM, it extracts the relevant information — the component parts of formulas verbal suggestion, recorded in advance in the form of codes in electronic memory.
Digital to analog converters resistors R7—R14 converts the codeword to an analog signal. For coordination of the DAC with audio Converter is the output stage DD1.4 is operating in linear mode. Moreover, for noise reduction the latest equipped with a filter frequency (С5R15) with a cutoff frequency of about 16 kHz.