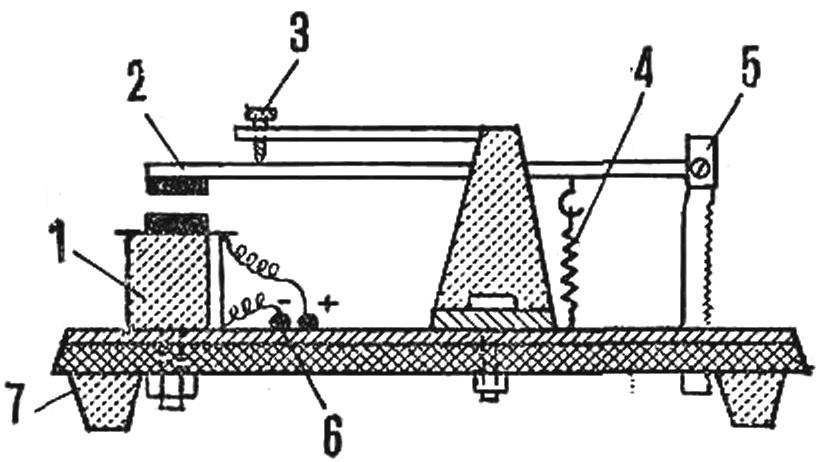 This simple saw can be processed plywood, thin wooden boards, etc. On the basis of the size of 250X150 mm are mounted the following parts: 1 — the solenoid of the screw Ø10 mm, which is wound with insulated copper
wire 0.2 mm (the more turns, the greater the power of the magnet); 2 — anchor made of soft iron (the larger the lever arm, running to the magnet, the more force is transmitted to the blade); 3 — retaining screw for regulating the working stroke of the saw; 4 — spring (for example, from avtokomanda); 5 — blade (a piece of thin blade, inserted into the cutting head and is fixed by screw); 6 — terminal, 7 — feet, of hard rubber or plastic, glued to the base.
Recommend to read
FROM ANY ANGLE
When welding two metal or plastic pipes, there is often a need to pre-cut them to the desired angle for proper docking. How to mark this angle on the tube? It turns out that the...
LAMBORGHINI MURCIELAGO
Ferrucio Lamborghini in his youth, after the Second world war, was fond of a remake of the serial "Fiats" in sports cars. In the early 1960-ies Lamborghini attempted to create a...