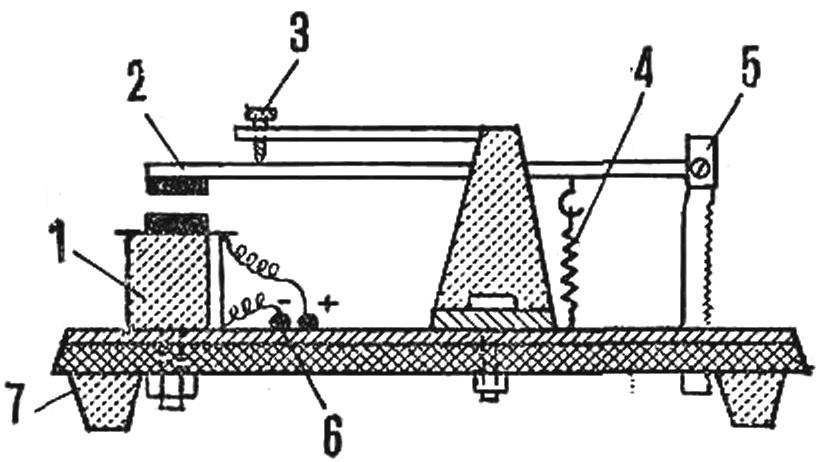 This simple saw can be processed plywood, thin wooden boards, etc. On the basis of the size of 250X150 mm are mounted the following parts: 1 — the solenoid of the screw Ø10 mm, which is wound with insulated copper
wire 0.2 mm (the more turns, the greater the power of the magnet); 2 — anchor made of soft iron (the larger the lever arm, running to the magnet, the more force is transmitted to the blade); 3 — retaining screw for regulating the working stroke of the saw; 4 — spring (for example, from avtokomanda); 5 — blade (a piece of thin blade, inserted into the cutting head and is fixed by screw); 6 — terminal, 7 — feet, of hard rubber or plastic, glued to the base.
Recommend to read
THE DRILL TEAM
Having a pretty powerful compact drive, the electric long gone among the leaders of household tools. And with the attachments, all kinds of fixtures are not averse and in agricultural...
MAGNETIC PROBE WITH ALARM
Of the readers who didn't lose metal parts or tools? Sometimes it happens at the most inopportune time and threatens to permanently stop work. Lost somewhere in the grass screwdriver...