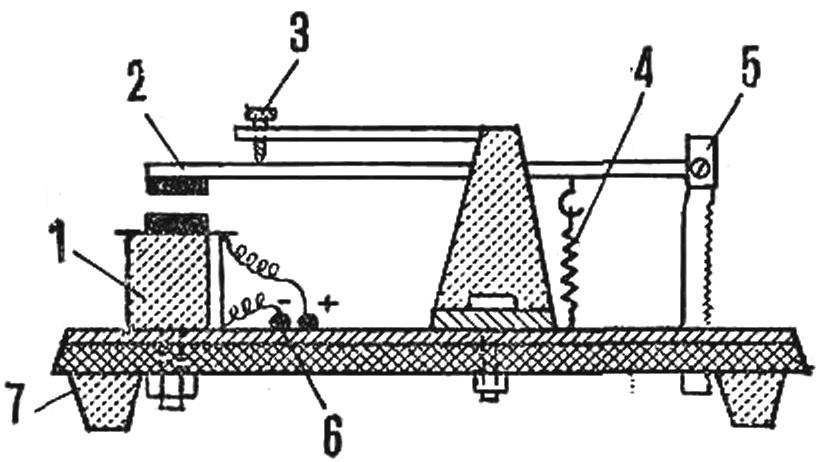 This simple saw can be processed plywood, thin wooden boards, etc. On the basis of the size of 250X150 mm are mounted the following parts: 1 — the solenoid of the screw Ø10 mm, which is wound with insulated copper
wire 0.2 mm (the more turns, the greater the power of the magnet); 2 — anchor made of soft iron (the larger the lever arm, running to the magnet, the more force is transmitted to the blade); 3 — retaining screw for regulating the working stroke of the saw; 4 — spring (for example, from avtokomanda); 5 — blade (a piece of thin blade, inserted into the cutting head and is fixed by screw); 6 — terminal, 7 — feet, of hard rubber or plastic, glued to the base.
Recommend to read
COMPACT ELECTRO-SOLDERING IRON
I have improved the conventional electric soldering iron. It turned out lightweight and compact (see Fig.), you can carry even in your pocket. It is easy to make and a beginning radio...
DRILL-BABY
The construction of any model is unthinkable without cutting in detail dozens of holes in the first place is quite small, with a diameter of less than 1 mm. you Buy such a drill, of...