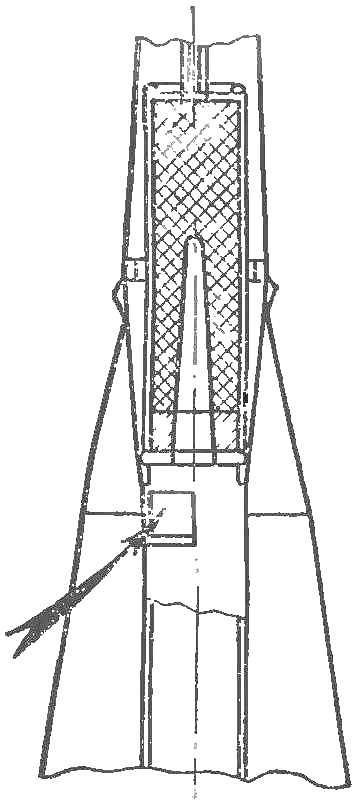 Using copy booster of the spaceship "Soyuz" in the class of models K-2 has, along with the advantages and disadvantages. In the manufacture of models, it is difficult to meet the launch weight of 120 g. But the complexity of the design allows (high quality models) to high poster ocenku. And we decided to build the engine in the junction of the two conical surfaces of the Central unit. Thus it was possible to refuse to load the nose of the model. The inner surface of the Central unit for protection against burn-out during operation of the engine covered office silicate glue.
To increase the thrust of the rocket engine in flight for the models used high-ejector. It is made in the form of two opposite Windows of size 8X10 mm cut in the Central unit between the side units.
air flow (two opposite Windows of size 8X10 mm).
In flight, the air flowing over the model is drawn in by the gas jet of the rocket engine, and inside the Central block fuel dorogaya completely.
Recommend to read
BACK TO THE JIGSAW…
This device allows you to consistently perform those operations which are performed simultaneously jigsaws, tension and clamp the blade. It is especially difficult to learn this kids —...
CASCADING FRONT
Closed furniture-type drawers or column with shelves needed for everyday storage of linen and easy home clothes. But after suburban papers you have heated your bath or sauna and made a...